---
US Becomes World's Second-Largest EV Market
China is the largest market for electric vehicles in the world. Germany was the second until the US just displaced Europe's largest economy as EV sales accelerated. 
BloombergNEF data shows the US is now the world's second-largest EV market, shifting Germany down to the third spot. Last year, nearly one million EVs were sold in the US, compared with 650,000 in 2021.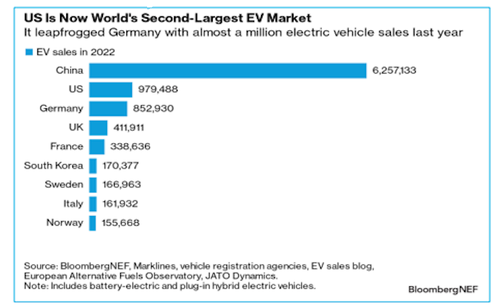 Not surprising is Tesla's dominance in overall sales. Elon Musk's automaker sold a whopping 510,610 vehicles last year. Ford Motor Company was number two with 74,000.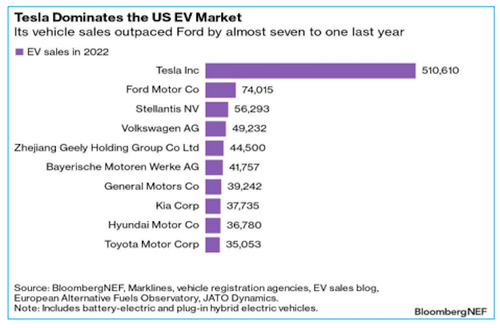 "The US is poised for a breakout year in 2023 with new EV manufacturing capacity and a fairly generous federal tax credit expected to drive sales to around 1.6 million," BloombergNEF noted. 
Last month, Tesla slashed the prices of its vehicles so buyers could take advantage of the $7,500 US government tax credit. Now the Model Y sold out until April. Electrek's Fred Lambert said the price cuts sparked "unprecedented demand" in the US. 
Meanwhile, Ford shares stumbled this past week after it paused production and shipments of its electric F-150 Lightning pickup due to a potential battery issue. 
The Biden administration is the biggest proponent of electrifying America's future, pushing for decarbonization across the entire transportation system. On the local level, California, New York, and other states are moving to phase out the sale of gasoline-powered cars by the end of the decade to mitigate the 'effects of climate change.'
And while a decarbonized future sounds great, readers know there is no such thing as zero-emissions vehicles... 
Loading...