---
Visualizing Google's Search Engine Market Share
Google is ubiquitous in the daily lives of billions of people around the world, with leading positions in online search, maps, and other services.
In fact, as Visual Capitalist's Marcus Lu notes, Google's dominance is so far-reaching, it has led the U.S. Justice Department to launch a civil antitrust lawsuit for what it believes are examples of anticompetitive and exclusionary conduct.
This graphic, which uses data from Similarweb, shows the scale of Google's lead over major search engine competitors like Bing and Yahoo.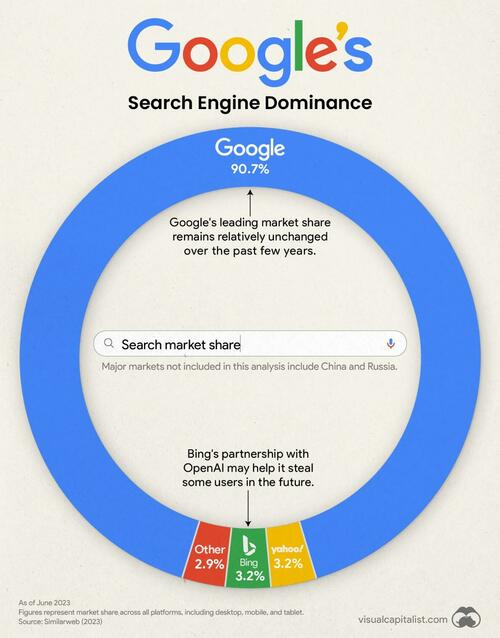 Global Search Engine Market Share
The data we used to create this graphic is provided in the table below. It is global search engine market share as of June 2023, across all platforms (desktop, mobile, and tablet).
Note that this analysis does not include China, where Google and other American tech firms are currently banned, or Russia, where Google has ceased operations.

The largest player included in "Other" is South Korea's Naver (0.48% global market share), which is similar to Google in that it offers a plethora of online services like search, video, and mobile payments.
Google Prepares for its U.S. Lawsuit
In January 2023, the U.S. Justice Department announced a civil antitrust lawsuit against Google for monopolizing digital advertising technologies.
"Today's complaint alleges that Google has used anticompetitive, exclusionary, and unlawful conduct to eliminate or severely diminish any threat to its dominance over digital advertising technologies"

- MERRICK B. GARLAND, ATTORNEY GENERAL
The Justice Department originally made several antitrust arguments. Potential actions that were deemed red flags include setting Google as a default mobile browser on Android phones, designing search results to disadvantage competitors, and the company's ongoing partnership with Apple for its Safari browser. That said, some of the less substantial claims have since been dismissed by Judge Amit Mehta.
Google's court case will begin in mid-September, marking the biggest tech monopoly trial since United States v. Microsoft Corp in 2001. Google is expected to argue that it simply offers a superior product.
Can Bing Challenge Google on Home Turf?
To answer this question, let's look at U.S. market share over the past 12 months ending June 2023.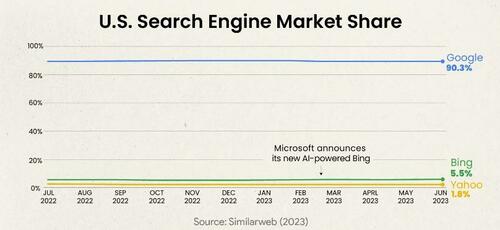 From this chart we can see that Bing maintains a slightly higher 5.5% U.S. market share (versus 3.2% globally).
The biggest takeaway from this chart, though, is that Bing does not appear to have gained any traction in 2023, even after releasing its latest AI-powered version in February.
The new Bing is the result of Microsoft's $10 billion investment into OpenAI at the beginning of 2023, which allows the tech giant to incorporate the immensely popular GPT-4 into its various products and services.
Loading...