---
Japan's Ispace Shares Crash On Lunar Lander Fail
Update (Wednesday): 
Shares of Tokyo-based ispace tumbled after the private company said its Hakuto-R Mission lander probably crashed while on approach to land on the lunar surface. 
Recall, we provided a live stream of the lunar landing on Tuesday afternoon. About 25 minutes into the planned landing, there was a communications mishap. 
Well, it turns out the lander probably crashed:
"It apparently went into a freefall towards the surface as it was running out of fuel to fire up its thrusters," Ryo Ujiie, the chief technology officer, told a news conference on Wednesday.
Shares of ispace trading in Tokyo crashed 20% on the news.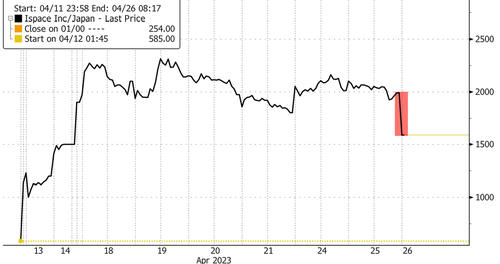 "It was probably overbought going into this," said Kirk Boodry, an analyst at Astris Advisory in Tokyo. He said, "Now that the excitement has sort of passed, investors are going to take a harder look at what it means as a business model."
If successful, iSpace would have achieved the first private lunar landing. This marked the second disappointment for the commercial space industry within a week, following SpaceX's Starship's inability to reach orbit. 
*    *    * 
Update (1305ET):
Ispace has switched to pre-recorded videos on its YouTube live stream due to a communication issue with the spacecraft as it attempted to land on the moon's surface. The spacecraft's current status is unknown.
*    *    * 
If all goes to plan, a Japanese lunar lander, which is transporting a rover developed by the United Arab Emirates, is set to touch down on the moon.
Ispace's Hakuto-R Mission 1 lander was launched atop a SpaceX rocket from Cape Canaveral, Florida, on Dec. 11. Since then, it has been on a three-month journey and just recently entered the moon's orbit, which lies about 239,000 miles away. 
Earlier statements from ispace outline Hakuto-R is expected to land at "the Atlas Crater, located at 47.5°N, 44.4°E, on the southeastern outer edge of Mare Frigoris ("Sea of Cold")." 
"Should conditions change, there are three alternative landing sites and depending on the site, the landing date may change. Alternative landing dates, depending on the operational status, are Apr. 26, May 1 and May 3, 2023," ispace officials said earlier this month. 
On Monday, ispace shared a photo of the lander about 62 miles above the lunar surface. 
We are excited to share a new photo of the Moon taken by the lander's on-board camera from an altitude of about 100 km above the lunar surface. The photo was taken at 4:32 am on April 15 (JST). (1/2) pic.twitter.com/PWux4GJLIx

— ispace (@ispace_inc) April 24, 2023
Here's another photo of the lunar surface and the Earth in the distance. 
We've received another incredible photo from the camera onboard our Mission 1 lander!

Seen here is the lunar Earthrise during solar eclipse, captured by the lander-mounted camera at an altitude of about 100 km from the lunar surface. (1/2) pic.twitter.com/pNSI4lPnux

— ispace (@ispace_inc) April 24, 2023
According to Space.com, the Hakuto-R lander is expected to land on the lunar surface around 1240 EST (1640 GMT). 
Ispace mapped out the entire mission.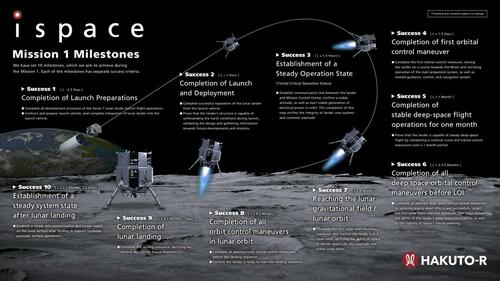 Live coverage starts around 1100 EST. 
This will be the first attempt at a private moon landing. 
Loading...