---
Watch Live: NASA To Launch World's Most Expensive Toilet For ISS Use 
NASA has designed a $23 million titanium toilet that will better accommodate female astronauts is headed to the International Space Station (ISS), reported AP News. 
NASA and Northrop Grumman are targeting Friday night (Oct. 2) to launch the Cygnus NG-14 mission atop its Antares rocket. The rocket, carrying ISS-bound cargo, will deliver nearly 8,000 pounds of supplies and equipment, including the "space toilet." The original launch was expected on Thursday from Wallops Island, Virginia. But a delay was seen in the final countdown. 

The $23 million toilet weighs 100 pounds, measures 28 inches tall, and is half the size of the Russian-built toilets in use on the ISS.
Here's a closer look at the world's, and now undoubtedly outer space's most expensive toilet: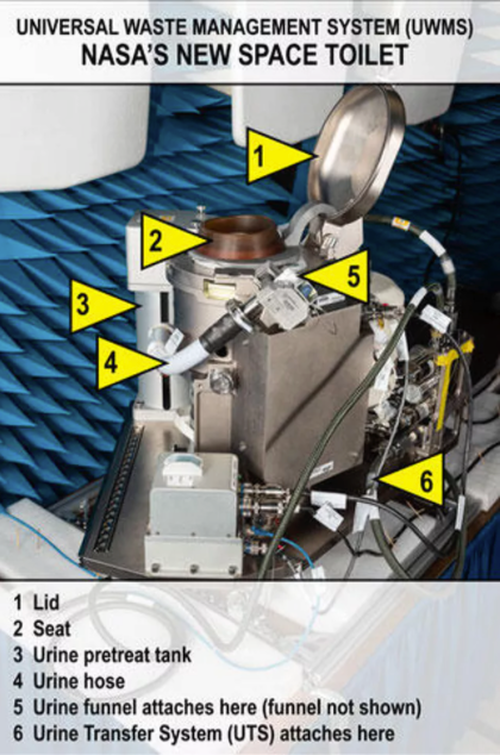 Since the new toilet is about 65% smaller than Russian-built ones, it will be the premier toilet for astronauts to take number 1,2,3 while on future missions to the moon. 
At the moment, here's the Russian-toilet currently in use on the ISS. 
Melissa McKinley, the project manager at Johnson Space Center, who was quoted by The Guardian, said the older toilets cater more to men. The new ones will better accommodate women - as we recently mentioned, NASA is preparing to send the first woman to the moon in 2024. 
"Cleaning up a mess is a big deal. We don't want any misses or escapes," McKinley said, adding that, let's just say everything floats in weightlessness.
Tonight's launch is set for 9:16 p.m. EDT (0116 GMT). Readers from Washington, D.C. to Baltimore to Philadelphia to even New York City might be able to see NASA's launch of the world's most expensive toilet. 
Here's a live feed for tonight's launch:
Readers may recall astronauts aboard the ISS are still hunting for a small air leak. They believe the leak could be coming from a Russian ISS module called Zvezda.