---
White House Announces Tesla Will Open Supercharger Network To Expand EV Access 
The Biden administration announced Wednesday new plans to expand the nation's charging network "so that the great American road trip can be electrified." 
According to a fact sheet published on the White House's website, the administration plans to build a network of 500,000 electric vehicle chargers from coast to coast. To achieve this goal, the administration announced Tesla would open 7,500 chargers to all electric vehicles, including 3,500 new and existing 250 kW Superchargers on highways. 
Tesla, for the first time, will open a portion of its US Supercharger and Destination Charger network to non-Tesla EVs, making at least 7,500 chargers available for all EVs by the end of 2024. The open chargers will be distributed across the United States. They will include at least 3,500 new and existing 250 kW Superchargers along highway corridors to expand freedom of travel for all EVs, and Level 2 Destination Charging at locations like hotels and restaurants in urban and rural locations. All EV drivers will be able to access these stations using the Tesla app or website. -WH
The Biden administration also said Tesla would "double" its nationwide network of Superchargers produced in Buffalo, New York.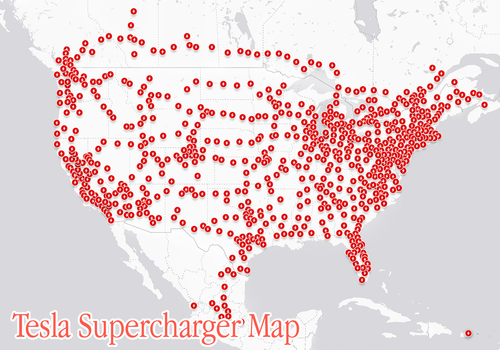 Late last month, Reuters reported that Elon Musk met two top White House officials to discuss expanding EV production and charging networks. 
On Tuesday, White House infrastructure chief Mitch Landrieu told reporters that Musk was involved in discussions with the administration about charging infrastructure. 
"He was very open, he was very constructive," Landrieu said. "And at that time, he said his intent was to work with us to make his network interoperable. Everybody else on the call agreed."

Landrieu added, "It was critically important to us that everybody be included in the conversation."
The rapid buildout of the nation's EV charging stations is to handle the future demand for all the new EVs to hit roadways. The administration has set a goal for EVs to account for at least 50% of new car sales by 2030. And it's only a matter of time before the US power grid will have to be upgraded to handle all these new EVs.  
Today's development shows the White House and Musk might have repaired strained relations since the billionaire accused Biden of being "unable to say the word 'Tesla'" last year. 
Loading...