---
You Will Never Guess How Many Buzzfeed Employees Are About To Be Fired
Shares of BuzzFeed jumped over 50% this morning after WSJ revealed that Meta Platforms is paying the struggling digital media outlet millions of dollars to help create content for Facebook and Instagram. Those gains were extended in early afternoon trading when WSJ cited an internal company memo that it would begin to use ChatGPT creator OpenAI for content creation. 
By 1230 ET, shares of Buzzfeed were up 100%. Gains quickly extended when WSJ posted details about an internal memo sent to staff by CEO Jonah Peretti about a plan to increasingly use artificial intelligence in day-to-day operations this year. 
WSJ provided some insight into what Buzzfeed will do with AI on the content creation side:
In one instance, the company said new AI-powered quizzes would produce individual results.

For example, a quiz to create a personal romantic comedy movie pitch might ask questions like, "Pick a trope for your rom-com," and "Tell us an endearing flaw you have." The quiz would produce a unique, shareable write-up based on the individual's responses, BuzzFeed said.

Mr. Peretti expects AI to assist the creative process and enhance the company's content, while humans play the role of providing ideas, "cultural currency," and "inspired prompts," he wrote in his memo. In 15 years, he wrote, he expects AI and data to help "create, personalize, and animate the content itself," rather than just curate existing content.
AI-powered content creation comes as the struggling media outlet fired 12% of its workers last month to rein in costs. Its third-quarter net loss widened to $27 million from $3.6 million a year ago. 
Buzzfeed went public through a SPAC in late 2021 for around $10. Shares of the company plunged to as low as 64 cents in December. 
It seems like a pump...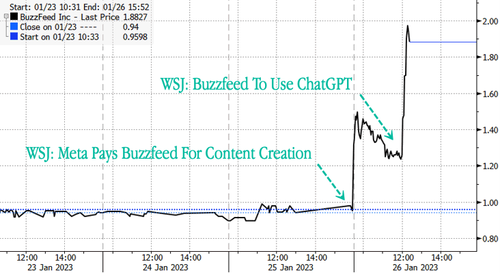 ... and this via ChatGPT. 
The only thing better than fake news is fake fake news https://t.co/Oh3XIHLIrN

— zerohedge (@zerohedge) January 26, 2023
Meanwhile, Axios noted some AI publishing experiments had hit issues:
CNET last week said it will pause an AI publishing experiment after being called out for inaccuracies in articles it has posted that were written by AI tools.

CNET and its sister company Bankrate, a personal finance website, both stopped publishing AI-generated stories last week, Futurism reported, after quietly publishing dozens of explainers and list articles.
Newsrooms have been laying off thousands of journalists as the industry is in a down cycle. The rise of automation should scare everyone in the media industry, as no one's job is safe. This leaves us with Buzzfeed. How many more jobs will be slashed as AI might write a better story than some of their journalists... 
Loading...