---
Flight Cancellations Soar As Brutal Winter Storm Slams Eastern US
Update (1335ET): As the eastern half of the United States braces for a winter storm on Sunday, flight cancellations are rising this afternoon, making travel a huge pain for flyers.
According to data provided by FlightAware, there are 2,748 flights cancellations within, into, or out of the US. Delays within the US are increasing as well, up to 1,466. American Airlines canceled 22% of its flights or about 633. Southwest canceled about 9% flights or about 311. Delta canceled 10% flights or about 239. 
FlightAware revealed most of the canceled flights originated at airports in the Southeast, Mid-Atlantic, and Northeast, such as Charlotte Douglas International Airport (95% of flights canceled totaling 618), Hartsfield-Jackson Atlanta International Airport (27% of flights canceled totaling 225), and Ronald Reagan Washington National Airport (37% of flights totaling 151). 

The high number of cancellations is a multiprong issue. First, crew shortages showed no signs of easing three weeks after Christmas Eve. Second, a winter storm is battering the Southeast and heading up the coast late evening.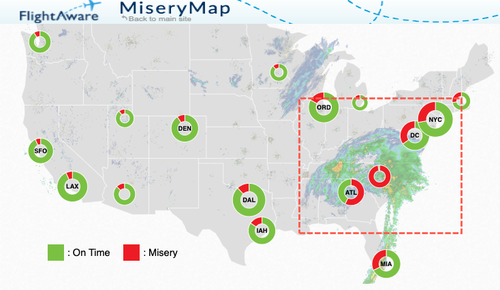 Flight cancellations and delays should only increase as the storm inches closer to the Baltimore–Washington metropolitan area. Much of the snowfall will be west of the Interstate 95 corridor. 
* * *
A massive winter storm could impact upwards of 100 million people across the Southeast, Mid-Atlantic, and Northeast during the latter part of the Martin Luther King Jr. holiday weekend. 
National Weather Service (NWS) issued winter storm warnings for 19 states, with some areas over the Appalachians could experience a snowfall rate of 1-3 inches per hour. 
"A major Winter Storm will impact the eastern U.S. on Sunday into Monday. The highest snowfall totals are expected along the spine of the Appalachians as well as across the lower Great Lakes. The most significant icing is expected over the Carolinas this morning. Significant impacts to travel across these regions are expected," NWS warned. 
Winter storm warnings have been issued for these states: New York, Ohio, Vermont, Virginia, Kentucky, Maine, Massachusetts, Arkansas, New Jersey, Pennsylvania, Georgia, North Carolina, South Carolina, Tennessee, West Virginia, Maryland, Louisiana, Alabama, Mississippi and the District of Columbia.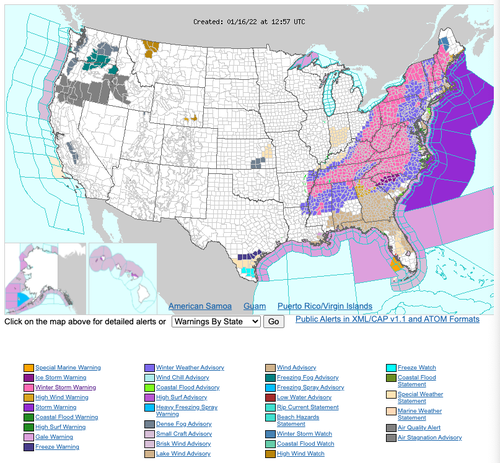 AccuWeather expects 6-12 inches of snow along the Appalachians and even into Ohio and western New York. There's a strong likelihood that snow accumulations of 3 feet could be seen at higher elevations in the Appalachians, Adirondacks, the Green and White mountains, and parts of southwestern New York near Lake Ontario. 
Pittsburgh, Johnstown and Scranton, Pennsylvania; Buffalo, Binghamton, Albany and Syracuse, New York; Morgantown, West Virginia; Cleveland; Pittsfield, Massachusetts; Burlington, Vermont; and Caribou, Maine; all face accumulating snow through Monday. As for metro areas along the I-95 corridor, expect 1-3 inches of snow, with a mixture of ice and rain. The heaviest snowfalls will be in the interior Northeast.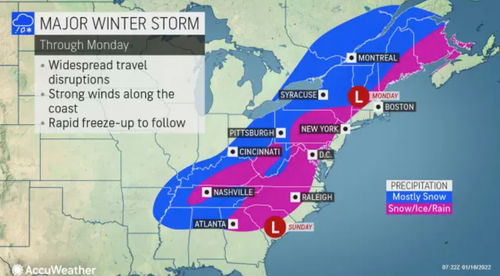 On Friday, weather models forecasted the heaviest snowfall would be west of the I-95 corridor -- so far, they're right.