---
Another Atmospheric River To Pound Central California
California has suffered from a devastating drought that caused widespread problems for many years. Climate alarmists (such as Greta Thunberg) screamed at the top of their lungs that the world would end... However, following a few short months of a conveyor belt of atmospheric rivers, extreme to severe drought conditions have dramatically eased.
The National Oceanic and Atmospheric Administration (NOAA) reports a new atmospheric river is approaching the Central Coast of California, which is likely to result in rain, wind, and thunderstorms towards the end of the week.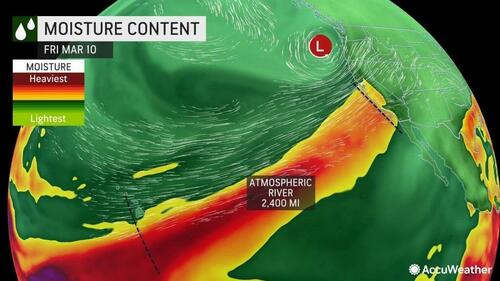 "We're expecting the onset to begin early Thursday morning along the coast, but by late morning we are expecting it to become more widespread," Roger Gass, a forecaster with the weather service, told news website SFGATE. 
"We'll see rain increase in intensity and coverage through the day Thursday and raining continuing into the night and into Friday morning," Gass said. 
Parts of the storm will begin to hit the Central Coast on Wednesday afternoon. The main part won't arrive until Thursday afternoon and last through Friday. Several feet of snow is expected for areas above 6,000 feet in elevation. Below 5,000 feet, such as the Sierra Nevada foothills, rainfall totals are forecasted to range between 2 to 7 inches.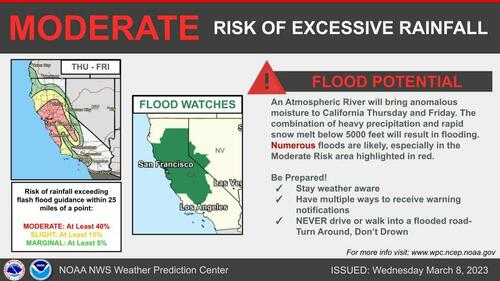 "Will there be a moderate to strong & warm Atmospheric River storm this weekend in CA? Yes. Will there be flooding from hvy rain & snowmelt? Also yes," UCLA climate scientist Daniel Swain tweeted. 
The latest deluge comes as extreme and severe drought conditions in the state have eased since the parade of atmospheric river storms began battering the state in late December.
Loading...