---
​​​​​​​April Temperature Anomalies Spike In Central US As Farmers Prepare For Early Spring Planting 
Weather models are forecasting warmer than average temperatures for much of the Central US. This is excellent news for farmers who may have an early start to the planting season as soft commodity prices have seen a parabolic rise due to demand increases from China. 
BAMWX meteorologist Kirk Hinz wrote in his latest weather note that "one of the more robust warm ensemble model solutions" is being seen across the Central US. He said the weather model shows the 5-10 day period in some regions across Central US could experience "+15-20F" above-average temperatures for April.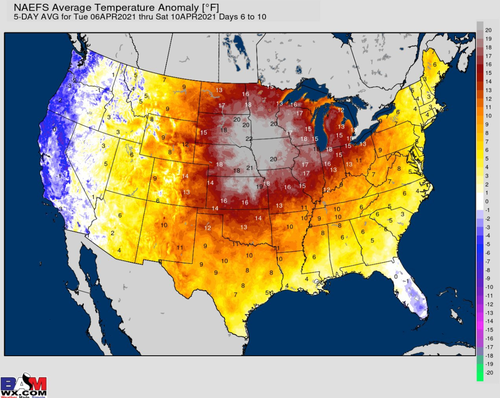 Hinz's temperature anomaly shows the most above-average region in April spans from parts of the Rockies into the Northern and Central Plains and northern Great Lakes.
One of the more robust warm ensemble model solutions I've seen in quite some time, being depicted in the 5-10 day period ahead across the central US. Some areas looking to see +15-20F, or higher, temps above "normal" into early April! #AGwx #OATT #Plant21 #natgas #energy pic.twitter.com/rSU0JuipoN

— Kirk 🌽 Hinz | BAM Weather (@Met_khinz) March 31, 2021
This is terrific news for farmers who have kept a close eye on skyrocketing soft commodity prices. An early spring may suggest more planting acres which would help alleviate supply constraints after China boosted demand for American farm goods. 
In mid-March, David Iverson, the national secretary of the United Soybean Board, told Agweek that soaring soybean prices had boosted interest in the bean to its highest levels in recent memory. 
"We've had down prices for a number of years and all of a sudden we get a big rally. So there's more interest in soybeans now," said Iverson said. 
Soybean prices are now at the highest price since late 2014.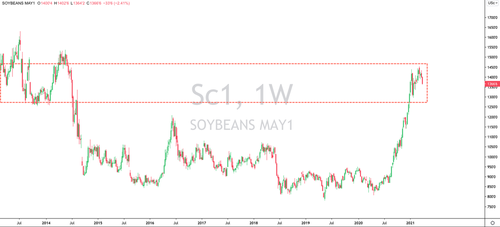 Perhaps an early start to the planting season, combined with soaring Chinese demand for US farm goods, maybe a boon for farm income after years of depression.