---
Big Bear Receives More Snowfall This Week Than Average Year
Authored by Jamie Joseph via The Epoch Times (emphasis ours),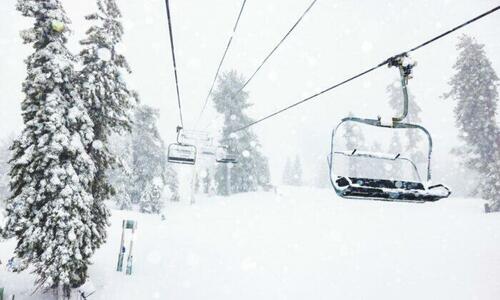 Big Bear Mountain—home to one of Southern California's premiere ski resorts tucked in the San Bernardino National Forest—received more snowfall this week than it normally receives in a year, according to a spokesperson for the resort.
During the week, snowfall exceeded more than 100 inches—the retreat's yearly average—resort spokesman Justin Kern told The Epoch Times on Friday.
"We've passed that mark this week," he said.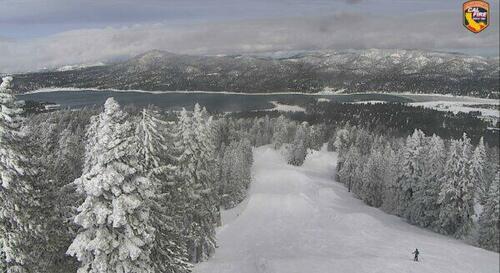 The sudden deluge comes as Southern California faces its first blizzard warning since 1989, beginning Feb. 23, for much of the region. Officials and resort personnel alike have been warning residents not to travel up the mountain until the advisory is set to expire after the weekend.
However, the resort remained open during the day on Friday with only a cancellation of its night operations.
Kern said some roads heading up the mountain, like State Route 330, are closed off. While other roads may be open with traction requirements, like Highway 38 to Mentone or Highway 18 to Lucerne Valley, the resort is encouraging people not to come until the storm clears, especially since the average Californian is not used to driving in this kind of weather.
"Our primary concern is just making sure that people are traveling to and from the mountain safely," Kern said. "This is not the time to start learning how to drive in the snow."
All vehicles, including those with four-wheel drive and snow tires, must have chains, Kern said.
Meanwhile, on the mountain—which is projected to get up to 8 feet of snow from this storm—those who already had reservations in the town's lodges could be seen snowboarding and skiing on Friday. The resort is keeping an eye on strong gusts of wind, which could result in ski lift closures.
Additionally, the Bear Valley Unified School District canceled classes Thursday and Friday for "snow days," due to hazardous driving conditions.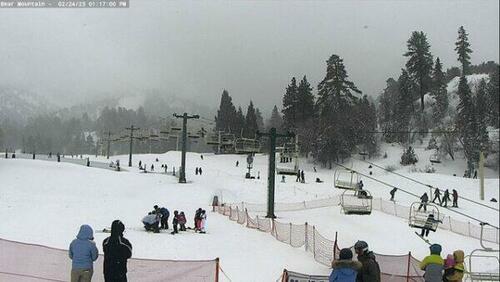 A Rare Storm
The unexpected snowfall comes as mountains in several counties—Los Angeles, Ventura, San Bernardino, and Santa Barbara—all fell under blizzard warnings on Thursday. The National Weather Service warned these mountains would experience "heavy snow, winds gusting up to 80 mph, and near zero visibility."
National Weather Service meteorologist Andrew Orrison said there's a "unique combination" of what's causing this winter phenomenon across Southern California.
"It's a combination of it being a very cold storm and it's slow-moving, and because of it being slow-moving, it has time to bring in a lot of moisture from the Pacific Ocean," Orrison told The Epoch Times. "And the persistence of that feed of moisture off the Pacific Ocean coupled with the fact that this is a very cold system is really what's driving the very heavy snowfall totals."
The impacts of the storm, Orrison said, are concerning to forecasters, as the resulting blizzard conditions will be dangerous and could potentially cause power outages.
And while the blizzard warning is supposed to end by Saturday, there's a possibility it could be extended, he said, as heavy snowfalls coupled with strong winds could be "near hurricane force."
"It definitely is an extreme event, because of the way this has come together," he said.
Shortly after noon on Friday, Vineland Avenue in North Hollywood adjacent to the Hollywood Burbank Airport was flooded, trapping at least five cars. Subsequently, a flash flood warning was in effect through 10 p.m. Friday in inland parts of Los Angeles and Ventura Counties. Weather experts warned earlier in the week that flooding was likely to occur.
"As a reminder, if you see flooded roads, TURN AROUND, DON'T DROWN! You can't tell how deep the water is and you (and your vehicle) can be swept away," the National Weather Service in LA wrote on Twitter Friday.
Orrison said this storm system—what he calls an atmospheric disturbance—is different from typical winter storms in California, which are often associated with so-called atmospheric rivers. Unlike those storms, this system came down from the north and is stronger, but colder. As a result, snowfall is occurring at lower elevations and even in some valley areas, including near the Pacific coast.
One popular state landmark at a lower elevation that saw light snowfall yesterday morning was the 45-foot Hollywood sign, sitting at about 1,600 feet on the southern slope of Mount Lee in the Santa Monica Mountains.
It was a rare sight to see, Hollywood Sign Trust Chairman Jeff Zarrinnam told The Epoch Times.
"I was surprised," Zarrinnam said. "I walked outside my door yesterday and I see snow on the ground, and I said, 'Well, I'd better make a snowball and take a picture with the sign because that never happens.'"
Loading...