---
California Braces For Another Significant Storm
California seems to be having a three-month streak of bad weather luck as yet another atmospheric river is expected to pound the state on Tuesday through Wednesday, bringing along strong winds, heavy rainfall, flooding, and feet of snow in the mountains.
From the Mexico border to San Luis Obispo County, which lies north of Los Angeles, and across the southern half of California's Central Valley, the National Weather Service has issued a flood watch and wind advisory. Additionally, the weather agency has posted winter storm warnings for the high-elevation areas in Riverside and San Bernardino Counties.
Models are starting to converge on a bomb cyclone making landfall near the Bay Area tomorrow as California gets hit by yet another significant storm.

Widespread heavy rain, flooding, damaging winds, and heavy mountain snowfall is likely, especially for Central CA/SoCal. pic.twitter.com/7RfNTnD3u6

— Colin McCarthy (@US_Stormwatch) March 21, 2023
According to NWS, coastal areas and valleys could receive 1-3 inches of rain through Wednesday, with a possibility of 3-6 inches in the lower mountains and foothills.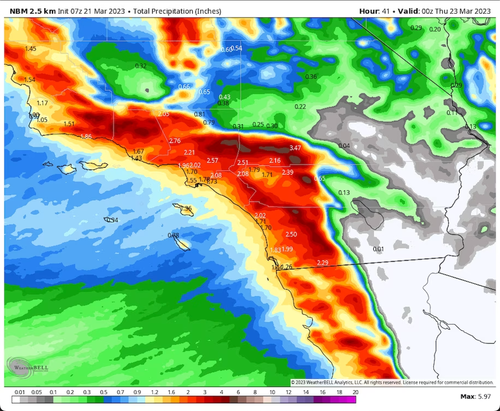 "Snow levels will be particularly low, starting at 6,000 feet but dropping to 3,500 to 4,000 feet by Wednesday morning," said KTLA weather reporter Kacey Montoya. She expects wind gusts to range around 40-55 mph.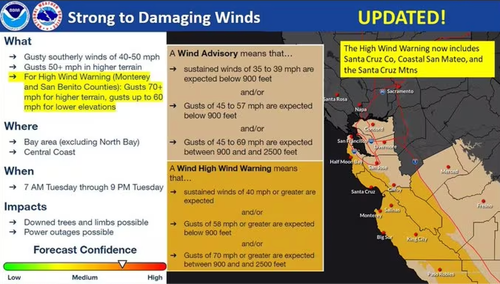 "We're going to see widespread, potentially damaging gusts pretty much the entire day Tuesday," Montoya said.
The same storm is expected to cause severe weather across 16 other states. By Thursday and Friday, it will traverse from Texas to Alabama. 
The series of atmospheric rivers hitting California since late December has been a blessing for the state, as almost half of it is no longer in a drought. Though there are concerns with so much Sierra Nevada Mountain snowpack, flooding could be a significant problem -- something just months ago. 
Loading...