---
Computer Models Show Hurricane Lee Could Make Landfall In New England 
Hurricane Lee formed nearly a week ago (read here) and rapidly intensified into a Category 5 (read here) on the Saffir-Simpson Hurricane Wind Scale. Lee has since been downgraded to a Cat. 3 with risks of restrengthening into a Cat. 4 this week while it churns toward the northeast Caribbean. New computer models show landfall impacts could be across Maine and the rest of New England.
Lee was located about 340 miles north of the northern Leeward Islands, with maximum sustained winds of 120 mph, according to a 0500 ET update by the National Hurricane Center. 
"A slow west-northwestward motion is expected during the next couple of days, followed by a gradual turn toward the north by midweek," NHC said.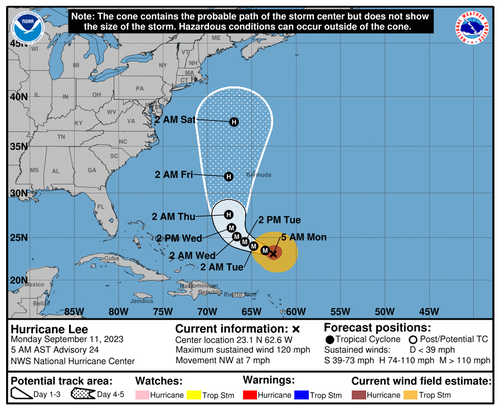 The weather agency has no coastal watches or warnings in effect for the US mainland but does expect dangerous surf conditions across the Lesser Antilles, the British and US Virgin Islands, Puerto Rico, Hispaniola, the Turks and Caicos Islands, the Bahamas through this week. 
Computer models favor Lee to ride parallel hundreds of miles offshore of the US East Coast by late week, with landfall impact concerns in the New England area next week.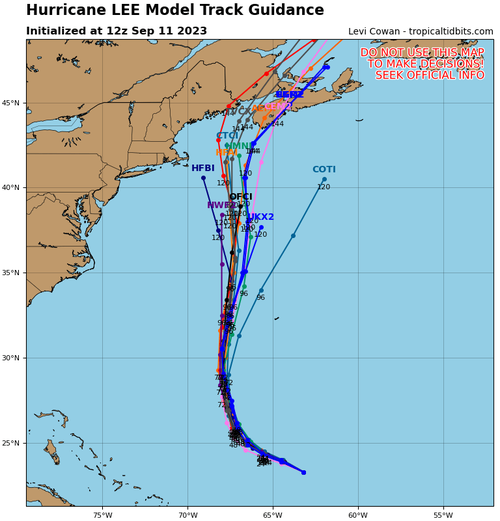 "It remains too soon to know what level of impacts, if any, Lee might have along the US East Coast and Atlantic Canada late this week, especially since the hurricane is expected to slow down considerably over the southwestern Atlantic," NHC said. 
Loading...