---
"Massive Tragedy" - Brazilian Dams Break, Ten More At Risk Of Collapse Amid Heavy Rain
Update (Monday 1310ET): Two dams collapsed in the northeastern Brazilian state of Bahia over the weekend after weeks of heavy rain. 
On Saturday night, the Igua dam on the Verruga river near Vitoria da Conquista in southern Bahia collapsed. The second dam broke about 62 miles to the north on Sunday morning.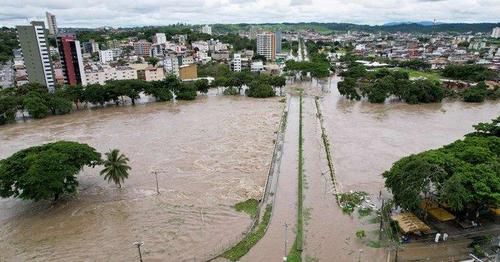 The floods have affected 40 cities throughout Bahia, Gov. Rui Costa said. He said at least 35,000 people had been displaced from their homes. 
"This is a massive tragedy. I can't remember seeing anything like this in Bahia's recent history, given the amount of cities and houses involved. It's truly terrifying, there are so many houses and streets that are completely underwater," Costa said.
As of Sunday, authorities declared a state of emergency in 72 cities, with floodwaters in certain parts of the state reaching as high as 30 feet. 
Local newspaper O Globo reported that state officials closely monitor ten more dams at risk for collapse. 
Images from the ground show the devastation across Bahia.  
This is in the @ECLIPSE_Keele communities. Our thoughts and prayers for all the #WeAreECLIPSE community members and all those affected on any way #floods #Bahia #Brazil pic.twitter.com/Z8LOzHpQ25

— Professor Lisa Dikomitis (@LDikomitis) December 27, 2021
https://t.co/rZRPh8RYvg pic.twitter.com/ey0aZWkjmb

— Aleksander Onishchuk (@Brave_spirit81) December 27, 2021
Dezesseis pessoas foram resgatadas de suas casas, neste Último domingo, em Ubaíra, por essa equipe do Grupamento Aéreo da PM. Essas imagens mostram um desses resgates. parabéns esses servidores e os centenas de voluntários e voluntárias que estão salvando vidas. #ubaira #Bahia pic.twitter.com/qQlLQebtYj

— CARLOS SILVA BRASIL LIVRE🇧🇷❤️ (@97alternativa) December 27, 2021
Prestamos nossa solidariedade a todo estado e população da #Bahia que sofre com a tragédia do alagamento das #chuvas. Toda nossa empatia ao Governador @costa_rui que tem sido agente ativo e incansável em minimizar dos danos dessa catástrofe, e cuidar de seus cidadãos em risco. pic.twitter.com/xmFE1RGzIt

— Hossein Gharibi (@gharibi14) December 27, 2021
VIDEO: The death toll from heavy rains that have battered the Brazilian state of Bahia since November rose to 18 on Sunday, amid incessant torrents that have displaced 35,000 people pic.twitter.com/eLNk4q2PAu

— AFP News Agency (@AFP) December 27, 2021
* * * 
After weeks of heavy rain, a dam in the northeastern Brazilian state of Bahia collapsed, sending a massive wall of water into populated areas. 
The dam in focus is the Igua dam, located near the city of Vitoria da Conquista in southern Bahia. It reportedly collapsed on Saturday evening and resulted in flooding of towns, including Itambe. Officials in the city warned people to evacuate immediately. 
"A dam with a high volume of water has broken and a strong flash flood is expected to affect the municipality of Itambe in a few moments. All residents should evacuate from the banks of the river Verruga urgently," said an Instagram post by the city. 
Local all-news radio network, BandNews FM, tweeted a video that shows the devastation in Itambe. 
CHUVAS • A prefeitura de Itambé, município do Sul da Bahia, alerta sobre o rompimento da barragem de Iguá devido às fortes chuvas na região, e disse que uma forte enxurrada poderia atingir áreas da cidade.
Confira:https://t.co/c2jpQCNg70 pic.twitter.com/ztHykbAut7

— Rádio BandNews FM (@radiobandnewsfm) December 26, 2021
Other areas have been affected by the flooding. 
Itororó-Bahia #Bahia #SOSsuldabahia #SOSBahia pic.twitter.com/f1qWY4hiBt

— oxigenada (@iaeceros) December 26, 2021
BAIRRO DA MANGABINHA, EM ITABUNA, DEBAIXO D'ÁGUA. ⚠️🌧

Registro foi feito por voluntários da cidade que estão utilizando jetski para resgatar as pessoas de suas casas. As imagens mostram que o nível da água chega no teto das residências

#chuva #bahia #itabuna pic.twitter.com/8nGgfHrFgM

— DEUS ME LIVRE DE FOFOCA (@DeusmelivreFofo) December 26, 2021
Se cenas como está não te chocam ou despertam em vc sentimentos de angústia ou aflição, vc já morreu a tempos.
O Extremo Sul da Bahia pede ajuda, contribua de alguma forma com as várias formas que estão disponíveis.
Contribua p/ comunidades Indígenas: 7399198-2962 Tiara A Santos. pic.twitter.com/3BqVlDosWO

— Thyara #SOSpovopataxo 🏹 (@PataxoThyara) December 26, 2021
MELLOS COM SUL DA BAHIA

pic.twitter.com/XW4PlU88OR

— FABI 🍷 (@Fabyana_braz) December 26, 2021
Since early November, the Bahia state government said torrential rains had caused major floods across 72 cities and killed at least 18 people, with 4,000 households displaced. There was no word on how many people were displaced are killed in the latest flooding incident. 
"At this first moment, we're acting to save people, to get people off the top of their houses, out of isolation, with boats," Bahia Gov. Rui Costa said Sunday. He said first responders are distributing emergency aid to affected residents. 
Other towns in Bahia monitor the deteriorating situation as more heavy rains mean other dams in the state could be at risk of collapse.