---
Is El Nino Supercharging Heatwave Across Asia?
A heat wave in Asia and record-high temperatures in Europe could be an early indication of an emerging El Nino weather pattern about to unleash above-average temperatures across the Northern Hemisphere this summer. 
Bloomberg reported Vietnam recorded 44.2C (or about 111.5F) over the weekend, triggering power shortage warnings. Neighboring country Laos also broke records. The Philippines reduced school hours as the heat index breached the "danger" zone. 
🚨Heatwave alert!🔥 Vietnam records highest-ever temperature of 44.1C due to #ClimateChange. #GlobalWarming
Southeast Asia is experiencing record-breaking #heatwave #Laos hottest 43.5C #Vietnam hottest 44.1C#Thailand hottest day on April 15 (45.4C)https://t.co/iDiOxlqwIL pic.twitter.com/PqivqkMMKO

— Asher Samuel Bhatti (PhD) (I'm Climate Crusader) (@ashersamu) May 8, 2023
The heat wave in Southeast Asia comes as El Nino is likely to supercharge heat across the region. Record temperatures were recorded last month from India to Malaysia.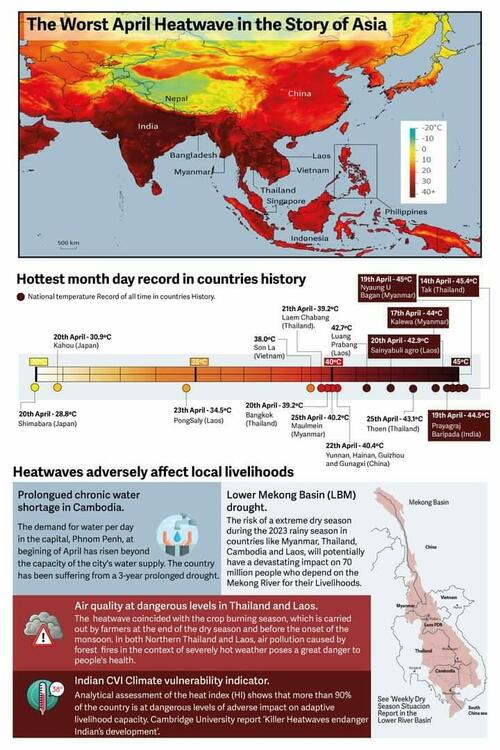 Over the last three years, the weather phenomenon La Nina, which typically results in a decrease in global temperatures, has been in effect. However, the reappearance of El Nino is becoming a strong possibility. This might result in crop production disruptions due to heat and drought, further exacerbating the global food crisis. 
"If El Nino disrupts India's monsoon season, there will be a deficit of rain and, of course, this will hugely impact agriculture and farming, and, as a result, the economy," Dileep Mavalankar, director of the Gujarat-based Indian Institute of Public Health, Gandhinagar, told the South China Morning Post. 
Besides concerns about freshwater shortages across Asia this summer, scorching temperatures might increase rolling blackouts as power grids are strained over the higher use of air conditioners. 
Meanwhile, Spain and Portugal experienced their hottest April on record due to a mass of hot air, which caused temperatures to rise above 30C (86F) and even approach 40C (104F) in certain regions. Above-average temperatures were also recorded in parts of Africa, around the Caspian Sea, and North America. 
Samantha Burgess, deputy director of the Copernicus Climate Change Service, wrote in a statement last month that "above-average temperatures were observed over the equatorial eastern Pacific, which is an early sign for a potential transition to El Nino conditions often leading to warmer global temperatures." Around the same time, we pointed out a disruptive El Nino pattern might roil ag commodities markets, like palm oil, sugar, and cocoa, to list just a few. 
Loading...