---
FAA Grounds All Flights At NYC's LaGuardia Due To Canadian Wildfire Smoke As 'Blade Runner-esque' Scenes Blanket East Coast
Update (1543ET): 
FAA tweeted a major flight slowdown for East Coast airports amid visibility issues due to smoke. 
The FAA is now slowing traffic from the East Coast and Midwest bound for Philadelphia International Airport due to reduced visibility from wildfire smoke. #AirQualityAlert

— The FAA ✈️ (@FAANews) June 7, 2023
*   *   * 
Update (1510ET): 
Whoa.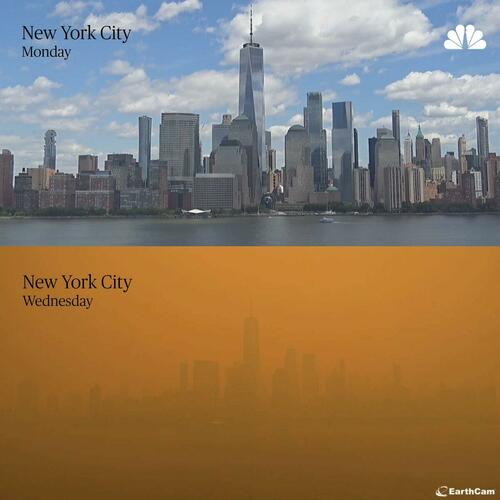 *   *   * 
Update (1345ET):
According to the Federal Aviation Administration, New York City's LaGuardia Airport has grounded departures "due to low visibility" until 1400 EST. 
Nearby Newark Liberty International Airport tweeted that "current smoke condition may impact your travel, please check with your airline to determine the status of your flight."
Besides New York City area airports, ones in Philadelphia and across Baltimore–Washington metro area also experienced hazy conditions. 
Samuel Ausby with the FAA Command Center tweeted, "Today we're dealing with some smoke and haze in the northeast."
"There are some fires in Canada that have been producing some smoke, due to the wind patterns it is now impacting the northeast of the US so from Boston, the NY metro area, Philadelphia and the DC metro area — are all experiencing some smoke that could impact travel through the airports," he said. 
According to the flight-tracking website FlightAware, there have been 1,147 flights delayed and 73 canceled. Many of the flight disruptions are across the East Coast.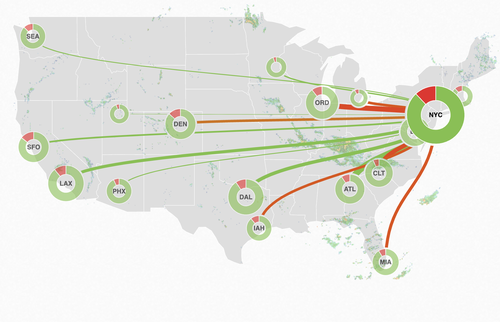 The smoky conditions across the Northeast are insane... It's like Mars. 
A ground stop has been issued at Newark Liberty International Airport in New Jersey and LaGuardia Airport in New York City due to low visibility from the #smoke and #haze: https://t.co/GpvRw4HBj9 pic.twitter.com/7OeLfEExbl

— Breaking Weather by AccuWeather (@breakingweather) June 7, 2023
Upstate New York looks like Mars right now due to smoke.

This is from @NWSBinghamton.

The sky is orange (only longer wavelengths of light penetrate the veil of smoke).

Air quality indices pushing 400. Hazardous to all.

Visibility down to just 1 mile. #smoke #CanadaWildfires pic.twitter.com/RPCVk5wzUg

— Matthew Cappucci (@MatthewCappucci) June 7, 2023
HAZE SHROUDS MANHATTAN SKYLINE AS CANADA WILDFIRE SMOKE DRIFTS SOUTH pic.twitter.com/8vezoM0E6z

— FXHedge (@Fxhedgers) June 7, 2023
Long Island is covered in smoke from the Canadian wildfires:

"This is so messed up. It smells like someone's got their fireplace on 90." pic.twitter.com/sbxo7T7Tcg

— Citizen Free Press (@CitizenFreePres) June 7, 2023
NEW: Canada's wildfire smoke, haze blankets Washington, DC. pic.twitter.com/olOtlvtD80

— Insider Paper (@TheInsiderPaper) June 7, 2023
This is fuckin wild. The last hour the #smoke has gotten significantly worse in North Jersey. pic.twitter.com/eZ2vJuwIFM

— Mikey Dealz 💨🔥😤 (@MrMikeyDealz) June 7, 2023
The Northeast looks like scenes from Blade Runner 2049.
Thanks, Canada. 
Fires in Canada are sending smoke across the U.S.

This @nasa GMAO animation models where the smoke may travel in the coming days. Concentrations of PM2.5 – small particles common in smoke that degrade air quality – are shown in yellows and reds. https://t.co/Uiz7U1LNnS pic.twitter.com/ToByBOiEZh

— NASA Earth (@NASAEarth) June 7, 2023
*   *   * 
Nearly 100 million people across 18 states, from New Hampshire to South Carolina, are under air quality alerts Wednesday morning, according to NBC News. A low-pressure system stuck off Nova Scotia is sending smoke from Canadian wildfires into the Northeast, Mid-Atlantic, and Southeast. 
According to the Canadian Interagency Forest Fires Centre, more than 400 wildfires are burning in Canada. The National Oceanic and Atmospheric Administration's radar-based analysis shows smoke from the wildfires pouring in from eastern Ontario and into the US.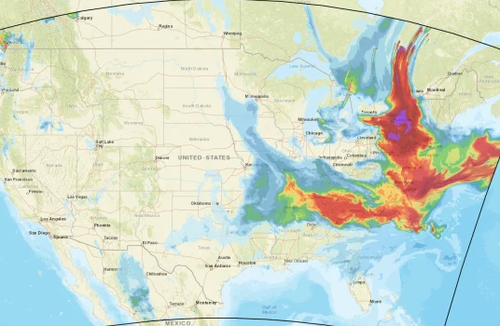 On Tuesday night, New York City had the worst air pollution of any major city in the world, according to the IQAir website. Many other major US cities were blanketed in haze with air quality levels deemed "unhealthy."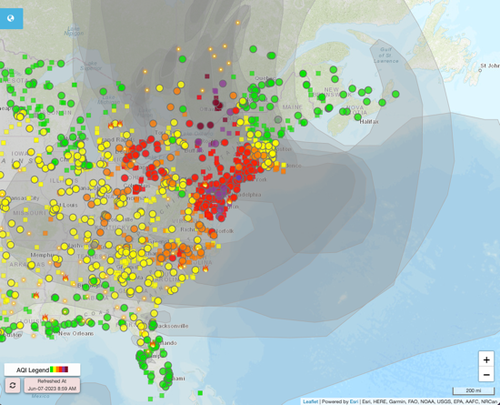 "EVERYONE should avoid the outdoors," one meteorologist tweeted. 
NEW YORK CITY: Prepare for air qualities WORSE than yesterday.

Likely in the code red to code purple category.

A wall of dense wildfire smoke will arrive by noon.

— Visibilities below 3 miles
— You'll taste the smoke
— Your eyes will sting

EVERYONE should avoid the outdoors. pic.twitter.com/JrEce3vLFV

— Matthew Cappucci (@MatthewCappucci) June 7, 2023
This morning, residents along the East Coast woke up to the following:
The Statue of Liberty in New York City is covered in haze and smoke caused by wildfires in Canada https://t.co/gni41b3v0i 📷 Amr Alfiky pic.twitter.com/Uj9kdKENTT

— Reuters Pictures (@reuterspictures) June 7, 2023
New York City. Looking south down the East River, past the tip of Roosevelt Island.
Sky above a section of the 59th St Bridge, filled with Canadian wildlife smoke.
All from the hospital waiting area. Hope to be home soon. pic.twitter.com/uzIRvVkswn

— Alan Cialino (@AlCialino) June 7, 2023
930 am 6/7/2023 smoke haze in DC over Memorial Bridge #CanadaWildfires pic.twitter.com/oDDOukkP4r

— KayAnn Schoeneman (@KSchoeneman) June 7, 2023
Flying through the smoke out of Baltimore this morning omg pic.twitter.com/bBKnhD3YqS

— big honkin caboose (@itsmegangraves) June 7, 2023
Haze and the smell of smoke continue in Baltimore this morning as Canada wildfires smoke blows east pic.twitter.com/OT8bOmxCOr

— Justin Fenton (@justin_fenton) June 7, 2023
Richard Bann, a forecaster at the US Weather Prediction Center, told Bloomberg:
"Relief is not coming anytime soon.

"For the time being the Northeast US is in a position where it going to continue to ebb and flow with the thickness and intensity of the smoke."
Meanwhile, NBC News is pushing masks: "If you need to spend time outside in smoke, a mask can help."
Perhaps El Nino is to blame. 
Loading...