---
Florida Braces For Tropical Storm Elsa, Landfall Expected Late Morning
Tropical Storm Elsa has been teetering between a tropical storm and hurricane strength for the last 24 or so hours. As of 0500 ET, Elsa had maximum sustained winds of 65 mph and moved north at 14 mph along Florida's west coast. 
By late Wednesday morning or early afternoon, Elsa is expected to make landfall around Florida's Big Bend region.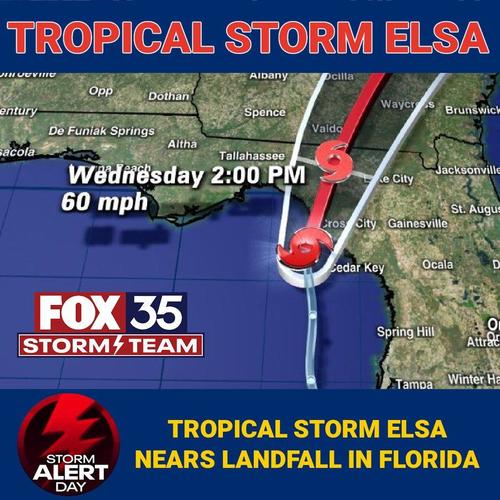 The storm weakened overnight after becoming a Category 1 hurricane Tuesday. At least 13 million people are under a tropical storm warning across Florida, Georgia, and South Carolina.
Florida Gov. Ron DeSantis declared a state of emergency Tuesday to include 33 counties. 
According to its website, Duke Energy, which serves 1.8 million customers in the state, was anticipated widespread outages. 
Luckily the storm tracked west of South Florida and avoided a direct hit of the collapsed condo site in Surfside. Even with its westerly track, some search and rescue efforts were delayed. As of this morning, there are at least 36 people dead and more than 100 unaccounted for. 
Weather models forecast after making landfall, Elsa will quickly traverse North Florida, dumping heavy amounts of rain and unleashing tropical strength winds, then move north to Georgia, the Carolinas, Virginia, Maryland, Deleware, and up into the Northeast before heading out in the Atlantic Ocean by late week.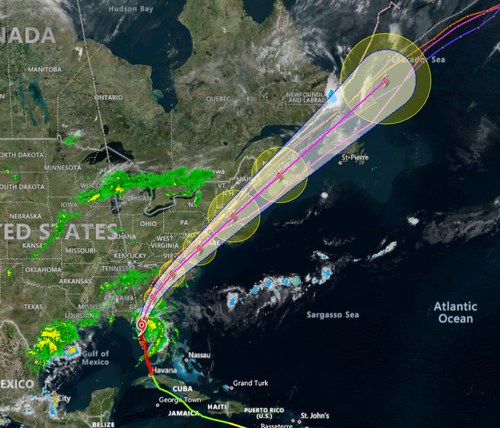 Here are our most recent notes on Elsa's progression over the last week:
Elsa is the earliest fifth-named storm on record. It also broke the speed record for the fastest-moving hurricane, hitting 31 mph last weekend.