---
Hailstorms Bombard Texas, Oklahoma, Causing Billions Of Dollars In Damage 
Residents in Texas and Oklahoma are recovering Friday after major hailstorms battered portions of the states late Wednesday, destroying homes and businesses and automobiles. 
AccuWeather forecasters estimate the damage could be more than $3 billion because the devastating storms unleashed large amounts of hail in metro areas, such as Norman, Oklahoma, and San Antonio, and Fort Worth, Texas. 
AccuWeather Senior Vice President and Chief Meteorologist Jonathan Porter estimates "total damage and economic loss caused by Wednesday night's hailstorms are predicted to be about $3.5 billion." 
"To put the economic toll of these storms into context," Porter continued, "AccuWeather's estimate for Hurricane Isaias, a Category 1 storm that struck the Caribbean and moved up the Eastern Seaboard of the U.S. in July and August of 2020, was $3 billion to $5 billion. It is yet another in a series of $1 billion-plus weather disasters."
In Hondo, Texas, located west of San Antonio, grapefruit-sized hailstones, measuring up to 4 inches in diameter, decimated everything in sight. In Norman, the diameter of hail was equivalent to baseballs and golf balls. 
Readers may recall we quoted the Storm Prediction Center, who warned hailstones up to 4 inches in diameter were headed Texas and Oklahoma. 
The hail hit with such force that one grapefruit-sized hailstone penetrated the roof of a house in Sabinal, Texas. 
One of many giant hail stones that came through the roof of my friend's house this evening in Sabinal, Texas. @NWSSanAntonio @IanShelton1997 @TxStormChasers @Justin_Horne @ReedTimmerAccu #eWXspotter pic.twitter.com/SGO7u8VcLi

— Kris WeltensϟF (@vortexrfd) April 29, 2021
Tennis ball-sized hail rained down in North Fort Worth, creating widespread destruction.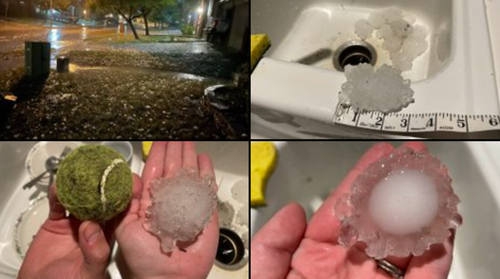 Anything left outside was damaged.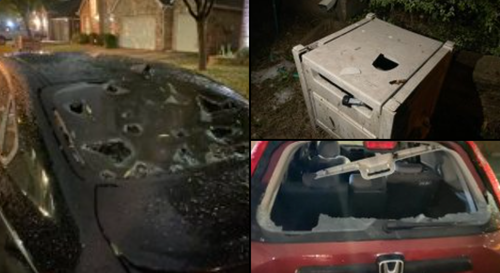 In Norman, cars were severely damaged. 
Incredible vehicle damage in Norman. Talked with a Walmart employee who showed me a video of all 200 skylights breaking and hail falling into the store. The skylights are TWO layers of plexiglass. #okwx pic.twitter.com/PQk6Mqrbpp

— Andrew Justin (@andrewjustinWX) April 29, 2021
Hail damage at a car dealership in Norman. 
Hail damage in Norman, Ok at a car dealership. Lots of windshields smashed. pic.twitter.com/C8YTUWdiET

— Ben Latham (@photogbenlatham) April 29, 2021
Damage in Norman alone could be upwards of $500 million. 
HISTORIC HAIL: Baseball-size hail wrecked cars, windows, roofs & infrastructure in Norman, Oklahoma.

The sudden severe storm struck shortly after 9pm Wednesday.

The damage in Norman expected to near 500 million dollars. | @koconews #okwx pic.twitter.com/UVOr3WOqRx

— Christine Stanwood (@KOCOChristine) April 29, 2021
AccuWeather outlines the storm's path of destruction.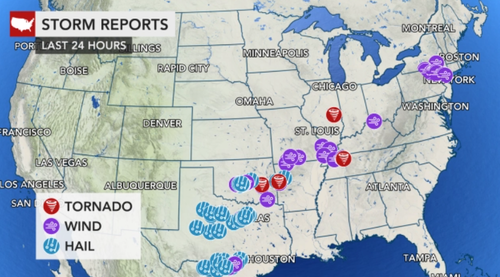 This would be the second billion-dollar disaster this year in Texas, following the polar vortex split in February that paralyzed the state for more than a week.