---
"Horrific" Swarms Of Spiders, Snakes Invade Australian Homes Amid Devastating Floods
Authored by Elias Marat via TheMindUnleashed.com,
In recent years, Australia's most populous state of New South Wales (NSW) has faced everything from drought to brushfires, a pandemic, a recent all-consuming plague of mice and now, devastating floods and massive hordes of spiders.
So it's flooding in NSW atm - pretty scary. Then I hear about the mice plague because of the rain - also scary. THEN I see something about spiders now coming out of everywhere and trying to escape the floods - NOPE, too scary for me. I'll be locked in my room, never coming out.

— Heather ⁷ (@itsjustme_hp) March 22, 2021
In videos shared across social media, hundreds if not thousands of spiders can be seen scrambling through people's homes and garages prior to an evacuation order being issued on early Saturday in expectation of the floods.
Yikes! 🕷️😳

NSW residents are being warned of a potential funnel-web 'spider plague' due to the recent extreme weather.

Details: https://t.co/ThT4SFKNZz#NSWFloods #9News pic.twitter.com/2CXBCI3qT6

— 9News Sydney (@9NewsSyd) March 24, 2021
In one video posted to Facebook by Melanie Williams, the arachnids of all sizes can be seen scrambling about in search of shelter from the coming deluge.
Clusters of Spiders Try to Escape Rising Floodwaters as Rain Lashes New South Wales
Clusters of spiders emerged from Kinchela Creek, New South Wales (NSW), in a bid to escape rising floodwaters as heavy rainfall continued to lash the Mid North Coast, https://t.co/ZZBsHVwVmu pic.twitter.com/Taz2AdyG8l

— Carlito Monolo (@CarlitoMonolo) March 22, 2021
"Check these spiders out, oh my god, oh my god! Look at them all," Williams said in the video. "No! No! Oh my god."
The Guardian reports that Kinchela resident Matt Lovenfosse was pulling up to his home on Monday morning when he witnessed what appeared to be a sea of "millions" of spiders climbing about to escape the floodwaters.
"So I went out to have a look and it was millions of spiders," Lovenfosse said.
"It's amazing. It's crazy," he continued. 

"The spiders all crawled up on to the house, on to fences and whatever they can get on to."
The flooding has resulted in some 18,000 residents fleeing their homes since last week, with authorities warning that the cleanup could last until April.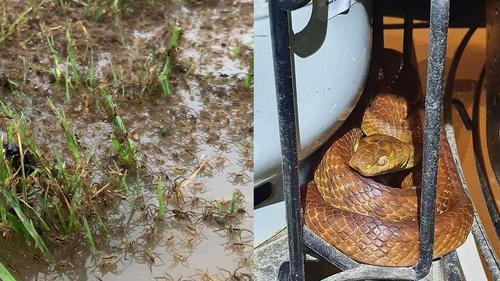 The floods have also seen thousands of snakes and insects of every kind scrambling to flee from the floods, with some snakes even leaping into rescue boats to avoid being drowned.
Meanwhile, in Australia...

'Thousands' of snakes on the move in NSW and Qld in search of dry ground.https://t.co/mgmGYnKm9s

— John Azariah #BlackLivesMatter (@johnazariah) March 22, 2021
Yellow faced whip snake! 🐍 Mildly venomous. #snake #wildlife #Australia #AustralianWildlife AustralianSnakes 🐍💛

This one found in Hawkesbury NSW. pic.twitter.com/rG2G1tCK8D

— Maidenwarrior of The Sewer Rats (@BrittMezher) March 24, 2021
"There were also skinks, ants, basically every insect, crickets – all just trying to get away from the flood waters," vistor Shenae Varley told Guardian Australia.
It's just the latest reminder that Australia isn't just another country – it may be its own entirely different world.