---
Hurricane Lee Strengthens To Cat. 5 Storm, Could Reach Winds Of 180 Mph; East Coast Impact Uncertain
Lee was only a Category 1 storm Thursday morning. In the last 24 hours, the hurricane traversing the warm Atlantic Ocean waters has doubled in wind speeds -- now a dangerous Category 5. 
Hurricane #Lee Advisory 11: Lee Becomes a Category 5 Hurricane. Dangerous Beach Conditions Expected to Develop Around the Western Atlantic Through Early Next Week. https://t.co/tW4KeGe9uJ

— National Hurricane Center (@NHC_Atlantic) September 8, 2023
As of 0500 ET, Lee was about 630 miles east of the northern Leeward Islands, which are located in the northeastern Caribbean, and the storm was churning west-northwest at 14 mph with maximum sustained winds north of 165 mph. This is the first Cat. 5 storm of the 2023 Atlantic hurricane season. 
"Additional strengthening is forecast today. Fluctuations in intensity are likely over the next few days, but Lee is expected to remain a major hurricane through early next week," NHC wrote in an update. 
NHC's current forecast shows Lee could strengthen Friday and reach maximum sustained winds around 180 mph by the evening. This would be the strongest system in the Atlantic since Hurricane Dorian in 2019. 
#Hurricane #Lee is forecast to reach a max intensity of 180 mph. Only seven Atlantic hurricanes in satellite era (since 1966) have had max winds >= 180 mph:

Allen (1980), Gilbert (1988), Mitch (1998), Rita (2005), Wilma (2005), Irma (2017), Dorian (2019) pic.twitter.com/P5HOUDFMb3

— Philip Klotzbach (@philklotzbach) September 8, 2023
Computer models show Lee is expected to turn north early next week. But when that exactly happens is unknown.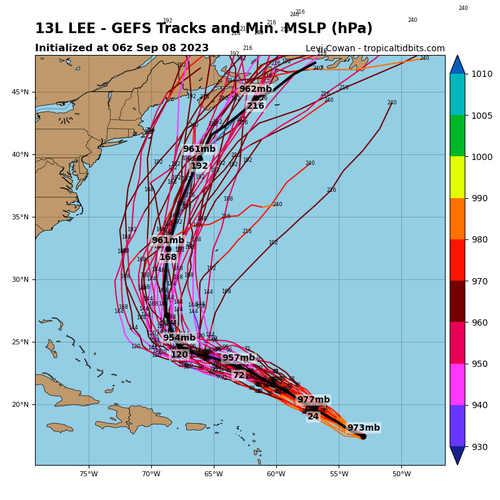 "It is way too soon to know what level of impacts, if any, Lee might have along the US East Coast, Atlantic Canada, or Bermuda late next week, particularly since the hurricane is expected to slow down considerably over the southwestern Atlantic," NHC said Thursday evening. 
Loading...