---
Major Winter Storm To Impact Millions Across Rockies, Midwest, And Northeast
A major winter storm is forecast to roll through the Rockies, Plains, and upper Midwest by mid-week. Accumulating snow and ice could spread as far as the Northeast by late week. 
Despite February being an unseasonably warm month in parts of the Midwest and Northeast, perhaps Punxsutawney Phil is right about six more weeks of winter. 
The National Weather Service has published winter storm watches, advisories, and warnings from the Rockies into the upper Midwest.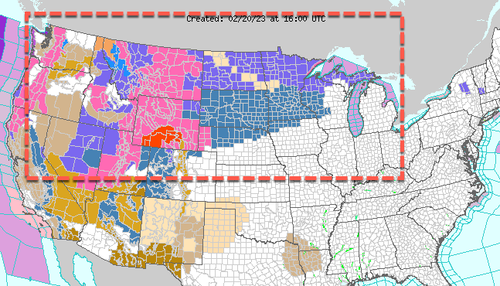 Here's The Weather Channel's timing of the storm that will impact millions:
-​ Monday and Monday night: Snow spreads from the northern Rockies into the Northern High Plains.

-​ Tuesday and Tuesday night: Snow spreads into the central Rockies and higher terrain of the Desert Southwest. Snow also spreads into the Northern Plains and western Great Lakes.

-​ Wednesday and Wednesday night: Snow intensifies in the Northern Plains, upper Midwest with blizzard conditions possible. Snow spreads into interior Northeast and New England and intensifies late. Sleet and ice develop from the Missouri Valley into the southern Great Lakes and parts of the Northeast.

-​ Thursday and Thursday night: Snow, along with some sleet and freezing rain, tapers off in the western Great Lakes but continues in parts of New York and New England before moving out by early Friday morning.
As for snow, the Weather Prediction Center said:
"Storm total snowfall will likely be measured in feet for many of the mountain ranges across the West." 
The Weather Channel's total snowfall forecast shows parts of South Dakota into Minnesota, northern Wisconsin, and northern Michigan might see significant accumulation through Thursday.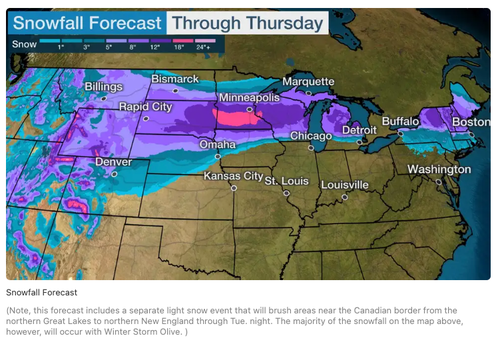 Winter isn't over, according to Punxsutawney Phil. 
Loading...