---
Meteorologists Warn Of "High Impact Snow And Ice Event" Around Groundhog Day
While millions of people along the North East recover from the "bomb cyclone" that dumped feet of snow in several coastal cities, there's a new storm that readers should be monitoring that could unleash disruptive weather ranging from snow, ice, and severe thunderstorms next week. 
Meteorologists at private weather forecaster BAMWX are warning about a potential "high impact snow and ice event" that may occur around Groundhog Day on Wednesday across the central Rockies to the Eastern Seaboard. 
Kirk Hinz, the meteorologist with BAMWX, outlined the highest threat areas for winter weather, including parts of Northeast Oklahoma; St. Louis, Missouri; Indianapolis, Indiana; Detroit, Michigan, and Northern Maine.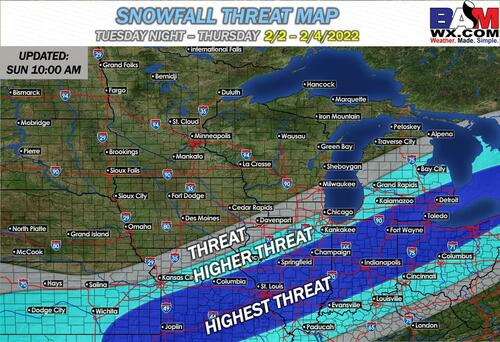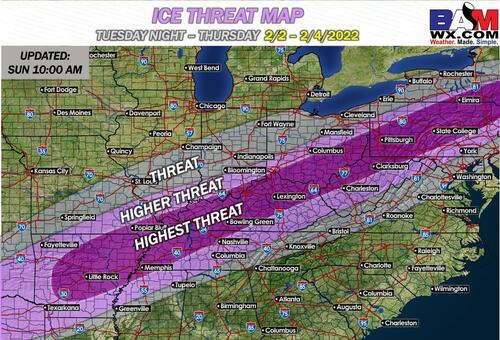 Hinz said the impending storm would have "cold air in place," and there will be heavy bands of snow for specific areas that could receive north of one foot of snow. He said the timing and exact snow amounts on a metro by metro basis are still unknown. 
The potential storm is projected to occur around the anniversary of the Groundhog Day Blizzard of 2011, a powerful and historic winter storm that affected large swaths of the US and Canada. The Chicago metro area was buried in 21 inches of snow and had blizzard conditions for days. 
Here are some of the latest snowfall totals from this weekend's bomb cyclone. 
Final snowfall reports from the January 28-29, 2022 blizzard. Highest totals by state:
MA-Stoughton 30.9"
NY-Islip 24.7"
RI-Warren 24.6"
CT-Norwick 22"
ME-Veazie 22"
NJ-Bayville 21"
DE- Lewes 14.2"
MD-Ocean Pines 14"
NH-Rye 13.5"
VA-Wallops Island 9.5"
PA-Lower Makefield 9" pic.twitter.com/qIzPHUM4pD

— NWS Eastern Region (@NWSEastern) January 30, 2022
Forecasts are not locked in and will most likely change in the next 24 hours. There could be widespread flight cancellations and delays if the winter storm materializes -- continuing the chaos from this weekend.