---
Millions Brace For Potential 'High Impact' Nor'easter
The unseasonably warm weather in January and February was too good to be true to stick around. Old Man Winter returned this month in the Northeast, as temperatures have been freezing this past week in New York City. A powerful nor'easter early next week could bring a burst of wintery precipitation to the region. 
The storm will traverse the Midwest this weekend and might become a nor'easter that travels up the East Coast on Monday, according to The Weather Channel. These types of storms are notorious for wind, snow, rain, and coastal flooding.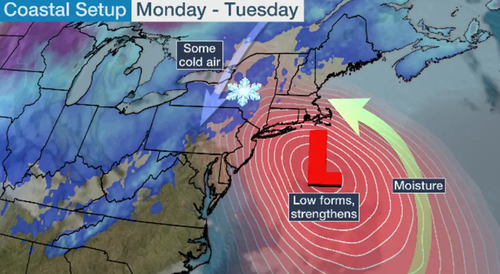 Here's the forecasted timeline of the storm:
Later Sunday: Light s​now could spread into the interior Northeast and New England. Rain may be favored farther south, especially near the coast of the mid-Atlantic.

Monday: Snow, possibly heavy, will fall in the interior Northeast with rain closer to the Interstate 95 corridor from southeastern New England to the mid-Atlantic. Winds will likely increase along much of the Northeast Seaboard.

Tuesday: Snow, possibly heavy, will fall in most of New England, and parts of upstate, central and possibly western New York. That could mix with or change to rain in parts of southern and coastal New England. Strong winds are expected, particularly in coastal New England, but also in much of the Northeast.

The most probable area for accumulating snow is the interior Northeast, from central New York state to western and northern New England. Snowfall amounts may decline in regions closer to the Interstate 95 corridor from downtown New York City to Boston, where the weather event could be just rain. 
Weather experts on Twitter are chatting about nor'easter. 
4 days out, we have excellent agreement from our two best long-range models for a high-impact Nor'easter Monday PM to Wed AM. High elevations are best bet for 1-2 feet of heavy snow. Coastal cities mostly rain. High winds will also be an issue for Coastal New England. pic.twitter.com/jxJcuZmgPx

— Bill Karins (@BillKarins) March 10, 2023
Model differences for next week's Nor'easter pic.twitter.com/kxACLl6e10

— Steve Petyerak (@StevePetyerak) March 10, 2023
Stormy pattern across the USA. Another atmospheric river on the way for the west coast, and potential nor'easter early next week. pic.twitter.com/buROtmQp6g

— Praedictix Weather (@Praedictix) March 11, 2023
Tuesday into early Wednesday is when winds are expected to increase along the Eastern Seaboard.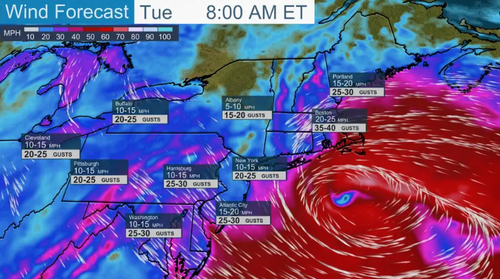 When a nor'easter is forecasted to form, it captures everyone's attention. However, the storm's trajectory and impacts are still uncertain. 
Loading...