---
Monterey Peninsula Could Be Cut Off After Atmospheric River Pounding
Golfers were sent running last week when massive waves crashed onto the 14th hole at the Monterey Peninsula Country Club in Pebble Beach. The video was stunning, but since then, a series of atmospheric rivers pounded the West Coast even more and now risk cutting off the Monterey peninsula from the rest of the state. 
In a press conference on Wednesday, Monterey County Sheriff Tina Nieto warned the county is preparing for an imminent cut-off from the rest of the state due to increasing flood waters from the Salinas River. 
"Monterey peninsula may become an island," said Monterey co. sheriff Tina Nieto during 1st major press conference since taking office to address storm concerns. Salinas river could bring more problems & disruptions. Sheriff urged people to stay calm, don't panic but be prepared. pic.twitter.com/4kotxfwwLB

— Felix Cortez (@FelixKSBW) January 12, 2023
"If the Salinas River goes under Highway 68 and Highway 1 on its way to Monterey Bay. During extreme flooding, the river can block people from moving on or off the peninsula by blocking both highways. This last happened in 1995," local media KSBW said. 
The flooding of the Salinas River tomorrow would raise a scenario where the entire Monterey Peninsula — roughly 54,000 residents, including a naval base & the Bay Area's National Weather Service office— would effectively become an island.

No access in or out on HWY 1 or 68. https://t.co/907NZlbkvV pic.twitter.com/Ycz0m6QdOU

— Gerry Díaz (@geravitywave) January 12, 2023
Evacuations are in place for low-lying surrounding areas. 
The Monterey County Sheriff's Office upgraded Evacuation Warnings to Evacuation Orders for the low-lying areas of the Salinas River, North of Arroyo Seco Rd/Hwy 101 and South of Chualar River Rd, effective immediately and until further notice. More info: https://t.co/XA2FLDK5pI pic.twitter.com/lXJJbTCc3I

— Monterey County Department of Emergency Management (@MontereyCoDEM) January 12, 2023
 After back-to-back-to-back atmospheric rivers, the Salinas River's water levels could crest between Friday and Saturday.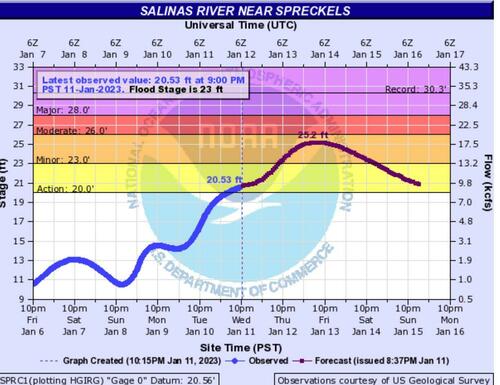 Footage of the flooding on social media. 
Monterey County officials are bracing for flooding along the Salinas River that could cut off road access to the Monterey Peninsula. https://t.co/1qt4Z5faRz pic.twitter.com/zxHTUeRuvx

— NBC Bay Area (@nbcbayarea) January 12, 2023
🚨Important update on potential flooding Thursday that could prevent access to Monterey Peninsula 🚨 pic.twitter.com/OYs6N8xDgE

— Supervisor Wendy Root Askew (@supervisoraskew) January 12, 2023
🚨ALERT: Salinas Valley hospitality & other workers who are employed in the Monterey Peninsula, be aware that flooding may potentially happen TOMORROW (THURSDAY) after 12pm on major roads & highways due to expected flooding in the Spreckels & other red areas on this map. pic.twitter.com/JkqOzgg2AL

— Luis Alejo⚖️ (@SupervisorAlejo) January 12, 2023
IMPORTANT ALERT: There is a high probability that the Salinas River will flood ALL access points into the Monterey Peninsula on Thursday, lasting through Sunday. Everyone is urged to plan ahead and expect not to be able to enter or leave the Peninsula if flooding occurs. pic.twitter.com/5UKV9LRXoJ

— MBEP (@MBEPartnership) January 12, 2023
Aerial photos of flooding along the Salinas river between Soledad & Gonzales. Photos courtesy of CalFire pic.twitter.com/yZCYhGU4OB

— Felix Cortez (@FelixKSBW) January 11, 2023
More breaching of Salinas river and flooding of ag fields, this one in Chualar. Tonight on @ksbw at 5&6 I explain how some of these breaches may have actually helped prevent the Salinas river from reaching dangerous flood levels.. pic.twitter.com/mpZ7WZv7Y8

— Felix Cortez (@FelixKSBW) January 11, 2023
Loading...