---
NatGas Futures Erupt On 'Bombogenesis' Threat For Northeast
U.S. natural gas futures jumped as much as 6% to $4.298/MMBtu Tuesday morning as traders are concerned about the possibility of a major winter snowstorm on Friday evening into Saturday for the Mid-Atlantic and Northeast regions.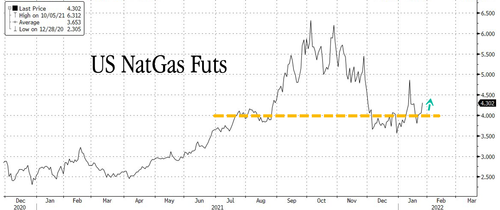 We first alerted readers on Monday about the prospects of "a possible nor'easter impacting the Mid-Atlantic and Northeast from Friday Night to Saturday." 
Within 72 hours of the storm (today), meteorologists can start discussing potential impacts. Around 48 hours (Thursday), more accurate snowfall total estimates will be circulated on social media and mainstream media outlets. On Friday, meteorologists can pinpoint town-by-town potential impacts. 
So far, what National Weather Service (NWS) meteorologists are saying is the storm is in the Pacific Northwest on Wednesday and will traverse the U.S. and Canada. It will then develop into a nor'easter Friday afternoon off the East Coast and could rapidly intensify into a so-called "bombogenesis."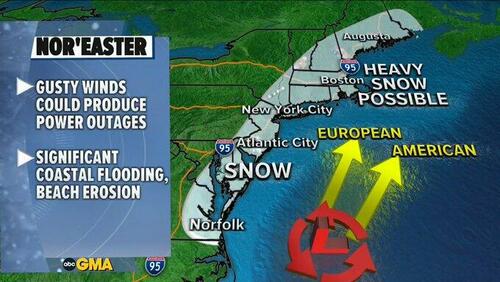 "It is definitely a concern for us," Alyson Hoegg, a senior meteorologist with AccuWeather Inc. in State College, Pennsylvania, told Bloomberg. "When it forms off the southeast coast, it is going to rapidly strengthen."
In the coming days, readers will hear several "B" words, including bombogenesis, bomb cyclone, and blizzard. 
To familiarize everyone with bombogenesis, it's when the storm's central pressure plunges by 24 millibars in 24 hours (thus causing it to intensify rapidly). 
Rich Bann, a forecaster with NWS in College Park, Maryland, said computer models pointed to heavy snow across New England. He said there's a chance for accumulating snow from the Baltimore–Washington metropolitan area to New York to Boston along the Interstate 95 corridor. 
Meteorologists have said the amount of snow the Mid-Atlantic and Northeast receive comes down to the storm's track if the storm hugs the coast, which means more snow inland. It would be quite the opposite if the storm went out to sea. 
Forecasts are not locked in and will most likely change in the days ahead. Still, energy traders are bidding up natgas as they speculate there will be heightened demand as the storm rolls on in by the weekend.