---
Tropical Storm Danny Forms Off South Carolina Coast, Landfall Imminent 
Update (1530ET): The National Hurricane Center (NHC) and preliminary Air Force reconnaissance data indicate that the tropical depression off the coast of South Carolina this morning has been upgraded to Tropical Storm Danny with maximum sustained winds of 40 mph.
Strong burst of convection going off near #TD4's center as it approaches the coastline. Potential for tropical storm force wind gusts (40+ mph) in exposed areas near the coast as it comes ashore. pic.twitter.com/HfVHbmk4tg

— Levi Cowan (@TropicalTidbits) June 28, 2021
As of 1400 ET, the tropical storm was about 55 miles east-southeast of Charleston, moving west-northwest at 16 mph, with sustained winds of 40 mph or higher. 
...DEPRESSION STRENGTHENS TO A TROPICAL STORM... Doppler radar data from Charleston, South Carolina, along with preliminary data from an Air Force Reserve reconnaissance aircraft, indicate that the depression has strengthened and is now Tropical Storm Danny. The maximum sustained winds are estimated to be 40 mph (65 km/h) with higher gusts. -NHC
Landfall is expected Monday evening.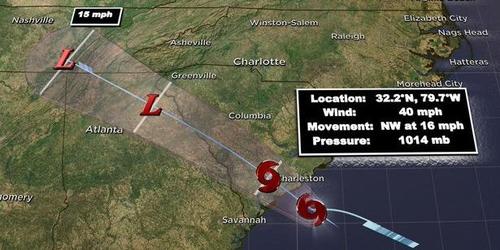 * * * 
The National Hurricane Center (NHC) is tracking multiple weather disturbances forming in the Atlantic basin and a hurricane in the Eastern Pacific. 
Beginning in the Atlantic, where a disturbance is located about 190 miles east-southeast of Hilton Head Island, South Carolina, has about 70% odds of tropical cyclone formation over the next 48 hours.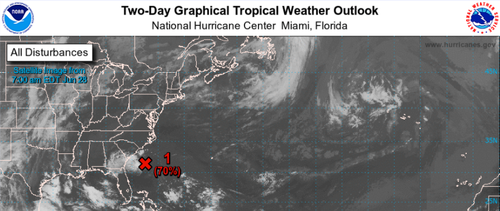 The US Air Force is expected to deploy their reconnaissance aircraft this afternoon and monitor the storm.
Meanwhile, a second disturbance is producing thunderstorms over the eastern tropical Atlantic Ocean. It has a 20% chance of forming over the next 48 hours. Slow development of the storm may allow it to form later in the week and approach the Lesser Antilles Wednesday night.
"There can be some gradual development with this as it tracks across the Atlantic and it is possible that this can gain enough organization to become a tropical depression during the first half of the week," AccuWeather Senior Meteorologist Adam Douty said.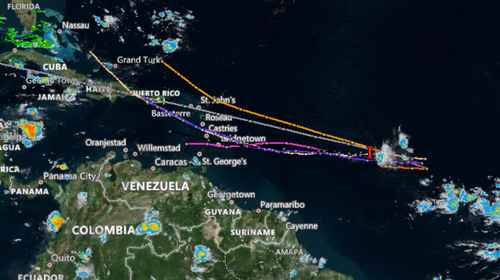 And in the Eastern Pacific, Hurricane Enrique had maximum sustained winds of around 90 mph and is on a collision path with the southern end of Mexico's Baja California peninsula by midweek.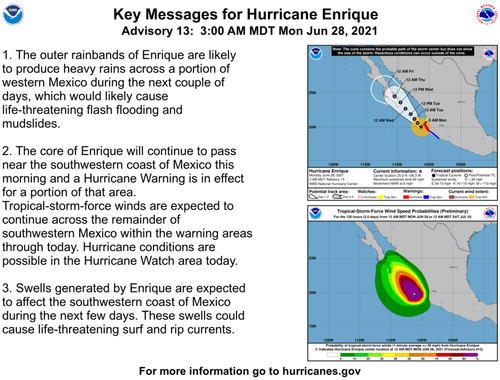 To recap, here are all three systems.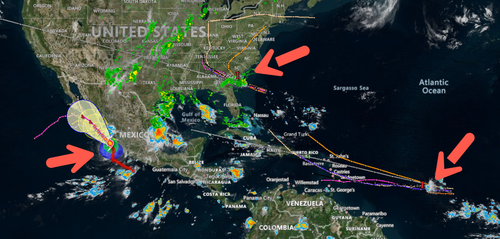 About one month into hurricane season, activity is already increasing, which may suggest a busy season.