---
Snowed-In And Terrified: Trapped California Mountain Residents Plea For Help
Authored by Jamie Joseph via The Epoch Times (emphasis ours),
The historic storm that swept through California over the last week—prompting Gov. Gavin Newsom to declare a state of emergency March 1—has passed.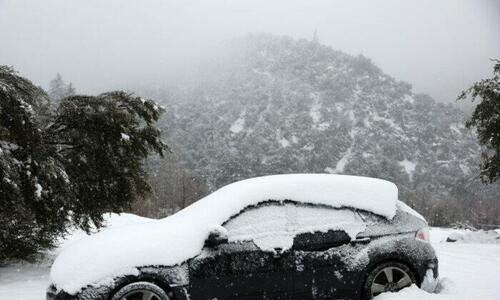 But for residents living in San Bernardino Mountain communities, the nightmare has only just begun, as many remain snowed in rationing food, medications, water, and heat.
"I can't even walk 50 feet because it's up to my shoulders," Lake Arrowhead resident Becky Gardner told The Epoch Times.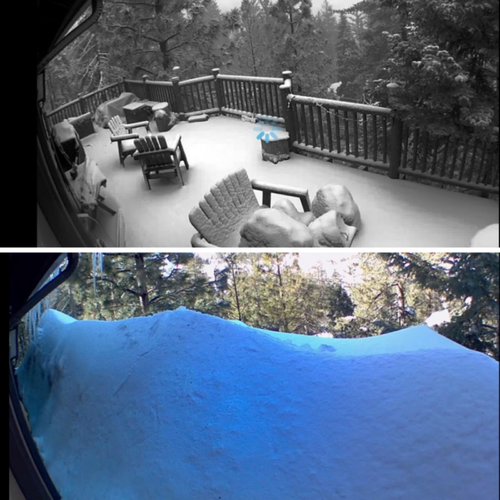 Gardner said she panicked when she saw pictures on social media of some locals spending hours digging out snow from on-top gas meters to prevent gas leaks. Melting snow, experts say, can block a vent on a meter's regulator disrupting gas pressure which could lead to a fire or explosion.
The San Bernardino County Fire Department advised residents to do so if they can get to their meters safely, according to a March 2 post on Twitter.
Gardner said she is concerned for her elderly neighbors, who have also been stuck inside for over a week. With uncertainty of when roads will be cleared, she said she is preparing to save her last logs of wood for her fireplace.
Like Gardner, anxiety and frustration have been mounting for some residents who remain trapped.
"It's been about 10 days," Lake Arrowhead resident Casey McLelland told The Epoch Times.
McLelland said the family has lived in the area since the 1970s and they say they've never seen anything like this.
"This is truly, truly one of a kind," she said.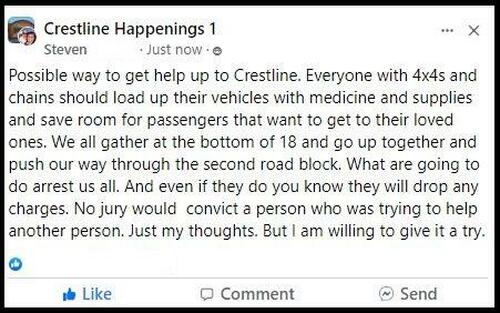 She said her 90-year-old grandmother, who lives across town by herself, is out of medication for her arthritis and has been without heat since last night.
She said she is losing hope and has lost track of time.
"If you have a life or death emergency right now, more than likely you're going to die," she said. "I'm not trying to be dire or dramatic, but that's kind of where it's at this moment, because even if a fire department gets the call, they can't get to you," she said.
According to the National Weather Service, Lake Arrowhead received more than 8 feet of snow over the last week. Normally, the region accumulates around 13 feet of snow each year.
Since the most recent storm, San Bernardino County crews have been working to clear roads as fast as possible and deliver much-needed essentials to desperately trapped residents and visitors.
"They're all doing the same mission," San Bernardino Cal Fire spokesperson Allison Hester Lee Told The Epoch Times.
According to Lee, crews are prioritizing locations to clear first based on callers who are without food or water, or have a life-threatening emergency.
Nearby Twin Peaks was hit the hardest. According to county officials, they received nearly 800 calls for help during the storm and now in its aftermath—the most for the entire San Bernardino mountain region.
Read more here...
Loading...