---
Southwest Cancels Another 2,500 Flights As 'Atmospheric River' Pounds West Coast
Southwest Airlines canceled more than 2,500 flights on Wednesday. A leaked memo from the airline outlined a staffing crisis ahead of Christmas weekend, along with a powerful winter storm -- all contributed to the worst operational mishap the airline has ever seen. Southwest has yet to recover as flight disruptions persist nationwide, despite all other carriers having normalized operations. Another weather event developing across the West Coast could further complicate air travel. 
A powerful winter storm caused by an atmospheric river battered parts of the West Coast on Tuesday, including Northern California, unleashing a variety of precipitation, including rain and snow and ice, as well as extreme winds and flooding in some areas. 
Ladies and gentlemen...our atmospheric river. 👀

Imagery: #GOES18 🛰️
Courtesy: @CIRA_CSU #cawx #azwx #nvwx pic.twitter.com/S3b4JZMTmA

— NWS Las Vegas (@NWSVegas) December 27, 2022
Last night, more than 190,000 homes and businesses in the Pacific Northwest were without power. The outage is now down to 80,000 as of late Wednesday morning, according to poweroutage.us.
This "series of Pacific storm systems will affect the western US with heavy rain, mountain snow, and strong winds into the weekend," the National Weather Service wrote in an advisory on Monday. 
NWS' Reno office warned of "widespread travel impacts" in the Sierra Nevada region, where winter storm warnings have been posted.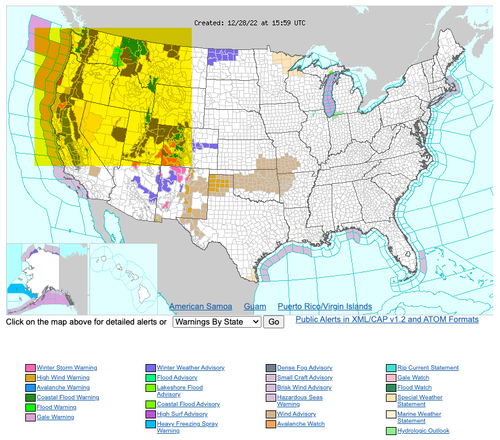 Insane gusts have been recorded of 151 mph. 
WOW! Gusts have been... gusty. Here's a sample of some of the higher observations from around the area. 🌬️🍃 Not Pictured: Ward Mountain clocked a gust of 151 mph!😱
Want to know more about the current system and upcoming forecast?
Click here and read on: https://t.co/X5KB0JrJ2R pic.twitter.com/3QOf8mX8xM

— NWS Reno (@NWSReno) December 27, 2022
The "deep and fast-moving storm system sweeping through the Intermountain West is forecast to continue producing moderate-to-locally heavy rain across the West Coast and parts of southern/central California through early this morning," NWS wrote in a memo. 
NWS continued in the memo and said another storm is expected to hit the West Coast from Central California up to the Pacific Northwest on Thursday into the upcoming weekend. 
Multi-model ensembles haven't backed on the NYE setup. 💪🏼

Strong westerly flow aloft will aid in streaming this week's atmospheric river eastward, providing plenty of moisture for the next two winter storms to feed off as they slam into the California on Thurs and Sat. #CaWx https://t.co/0lv12NX0ID pic.twitter.com/4gwvvhVb5Q

— Gerry Díaz (@geravitywave) December 28, 2022
The Weather Channel meteorologist Chris Warren said some areas of the Pacific Northwest could see accumulating snow "measured in feet, five to six feet." 
The continuation of adverse weather conditions in the US could complicate the flight situation even more. Currently, Southwest is in a crisis, but other carriers could see impacts that might stem from weather-related issues on the West Coast. 
Flying in the US this holiday season has been an utter nightmare for millions of travelers, some of whom are stuck at airports or had to cancel plans.
Loading...