---
Tens Of Thousands Of Australians Evacuated, Hundreds Missing As "Unprecedented" Flooding Hits East Coast
Authored by Rebecca Zhu via The Epoch Times,
New South Wales (NSW) residents are bracing for unprecedented floods across the east coast, with thousands of residents under evacuation orders and entire suburbs underwater.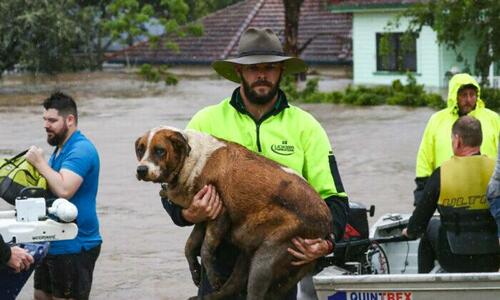 The flood-prone suburb of Lismore in northeastern NSW remains under water as the Wilsons River reached two metres above the record flood level from 1954, peaking at 14.4 metres (47 feet) at 3 p.m. on Monday.
NSW Police confirmed the first flood death in NSW and ninth death overall at 3 p.m. on Tuesday.
Hundreds are missing and at least more one is feared dead after he was lost in the floodwaters.
State Premier Dominic Perrottet has told residents the worst may be yet to come, with 26 evacuation orders affecting 40,000 people, as well as over 300,000 more people under evacuation warnings are in place.
"If an evacuation warning has been issued, please follow the instructions. If you can leave safely, please do so," he said. "Please do not wait. Please gather your belongings and please follow the instructions from the SES."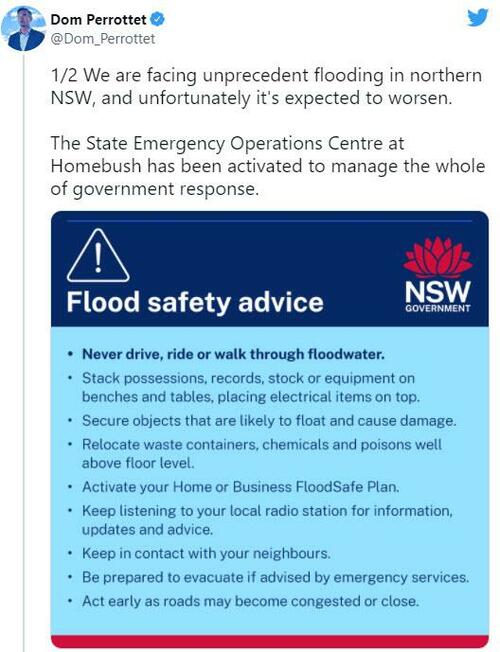 This comes as the Australian Bureau of Meterology has issued a warning for Australia's most iconic city, Sydney, to brace for flooding and severe winds with the weather system.
At present Perrotett has said emergency services have made over 1,000 flood rescues and received over 6,000 calls for assistance.
"I want to thank our SES volunteers and personnel, and the 550 working around the clock to get people to safety and importantly provide that care and support as we move through this difficult time," Perrottet said.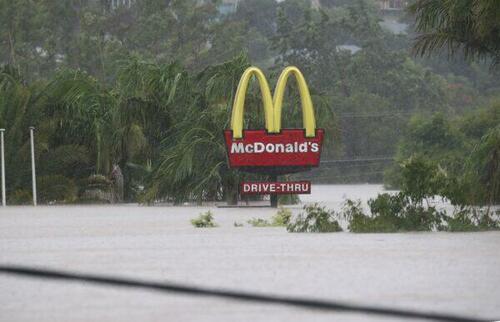 Flooding occurs in the town of Lismore, northeastern New South Wales, Australia, on Feb. 28, 2022. (AAP Image/Jason O'Brien)
Emergency Services Minister Steph Cooke said the state should prepare for the possibilities of multiple fatalities.
"Whilst I would love to think and I truly hope that we will not see any deaths from this event, I think that it is unrealistic that a disaster of this magnitude will mean that there are no lives lost," Cooke said.
Services are currently prioritising rescue and keeping people safe.
Meanwhile, residents along the east coast are bracing for heavy rain events and flooding as the weather system moves south.
"It's going to be a wet couple of days in pretty much all of the Sydney metropolitan and right up into the far western parts of the area," Dean Narramore from the BOM said.
Narramore warned communities around the Hawkesbury-Nepean river to get ready for minor flooding. A moderate flood warning was also given to families in Richmond and Windsor.
NSW SES Commissioner Carlene York urged people not to play in floodwater or return to homes while evacuation orders are in place.
"Please, as community members, don't put your life in danger again by going into those areas when it's not safe," York said. "The waters are polluted. There's a lot of debris, a lot of roads are still cut. It's not safe to go back. Please remain patient."
A warning for heavy thunderstorms and flash flooding has also been issued to Victoria and the east coast of Tasmania is being warned of minor flooding.