---
"Too Damn Messy": Flooded California Farmland Delays Plantings
California's vast amount of agricultural land is facing a significant issue due to a series of atmospheric rivers in recent months, which have saturated fields to the point where planting crops has become difficult.
"It's just too damn messy and muddy to create a quality pack. You don't want a bunch of mud on the produce," Christopher Valdez, president of the Grower-Shipper Association of Central California, told USA Today. 
More than a dozen powerful storms later, 78 trillion gallons of water has been dumped on California, reversing a multi-year drought in a matter of months. Now the agricultural powerhouse state, producing about a third of the country's vegetables and three-quarters of its fruits and nuts, faces planting delays due to washed-out fields. 
While everyone is NOT paying attention.. do ya all realize the farm land in California is flooded as well as midwest . Where is the food going to come from ? #plantfood #growgardens! U think prices are high now … just wait pic.twitter.com/ZHIjFCVNrz

— julesinthemountains3 (@julesinthemoun1) March 25, 2023
According to USA Today, the planting delays experienced by California's 69,000 farms may disrupt the supply of vegetables and fruits.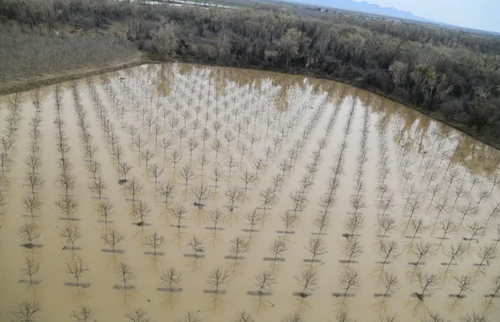 In some instances, farmers have delayed plantings since January. Valdez noted:
"I don't expect there will be shortages, but there will be some gaps." 
California is the top-producing state of figs, table grapes, kiwis, nectarines, peaches, persimmons, plums, and pluots. The wet, cool weather is expected to slow plant development this spring. 
Pajaro River and flooded strawberry fields. pic.twitter.com/hFSOWS108a

— Dustin Mulvaney (@DustinMulvaney) March 15, 2023
This small farm area in #California just a bit flooded. #CaliforniaFlooding pic.twitter.com/l03kmasTuz

— Sports Plus (@PrepSportsPlus) March 21, 2023
Additionally, California produces around 90% of the country's processed tomatoes and over a quarter of the global total. The current challenge is that fields are too wet for transplanting greenhouse tomato seedlings, resulting in delays for the next crop cycle. 
It's still being determined whether shortages will occur and lead to increased supermarket prices. The economic impact is already hitting farmers and field workers. 
"We're talking about workers who aren't getting jobs, and their homes may also have been flooded," said Daniel Sumner, a professor of agricultural economics at the University of California, Davis.
California consistently faces challenges in producing crops, no matter if it's wet or dry. It may be a good idea to consider starting your own garden as a precaution against potential supply disruptions that could emerge later in the year.
Loading...