---
Typhoon Mawar Pounds Top Indo-Pacific US Military Base
The most important US air base west of Hawaii, Andersen, situated in Guam, is in the crosshairs of a Category 4-strength typhoon. US military personnel and residents have been told to brace for impact as the storm is set to make landfall in the coming hours.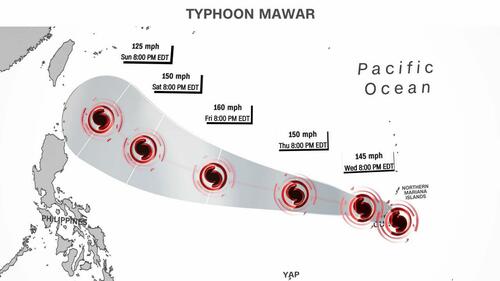 Typhoon Mawar was downgraded earlier from a super-typhoon and is swamping the US territory with storm surges and heavy rainfall. Deadly winds in excess of 145 mph have been recorded. The storm's core is expected to make landfall around 6 pm local time, or about 4 am EST. 
"The typhoon could be the strongest storm to hit the Pacific island in decades," CNN meteorologists stated. 
Guam Gov. Lou Leon Guerrero issued an evacuation order for all coastal areas across the island. 
"When sea levels rise, residents will have merely minutes to evacuate and respond. Thus, we must prepare now and anticipate the worst," the governor's office said in a release.
Flash Flood Warning including Dededo GU, Yigo GU and Tamuning GU until 5:45 AM ChST pic.twitter.com/xTHTMPv7HU

— NWS Guam 🇬🇺 (@NWSGuam) May 24, 2023
President Biden declared a state of emergency and ordered the Department of Homeland Security and Federal Emergency Management Agency to lead disaster relief efforts on the island that the US military occupies about a third of. 
Andersen is critical for the US military's dominance in the Indo-Pacific region. It serves as a forward operating base for strategic bombers. There's no word if the bombers are riding out the storm or if they were flown elsewhere. 
One primary concern is if the forward operating base sustains damage. 
Typhoon is hitting Northern Guam where all the US military bases are at right now. Thankfully I am south. The winds sounds like it's trying to tear into my house. Houses in Guam are made with reinforced steel and concrete so it won't be so easy. pic.twitter.com/K8CHVlZzNR

— sinwaves (@PEACE1004) May 24, 2023
We're sure China is closely watching...  
Loading...