---
US NatGas Prices Slide To 18-Month Low On Warm Spell; Some Models Forecast Cold Blast In Weeks
Natural gas futures plunged to an 18-month low on Friday morning, extending a further decline after mild two-week weather forecasts for the Lower 48 continued to drive down heating demand concerns and alleviate supply woes.
NatGas for February delivery dropped as much as 5.4% to $3.52 per million British thermal units in New York -- the lowest intraday price since early July 2021. Prices have plunged nearly 62% from a high of $9.62 in late August.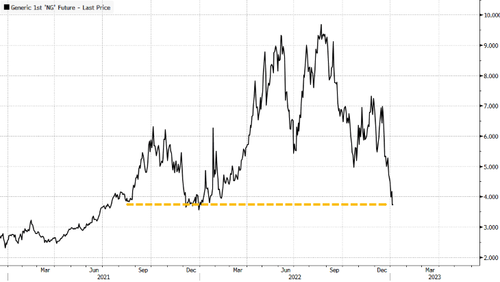 Two-week temperature outlooks for the Lower 48 show temperatures well above a 30-year average.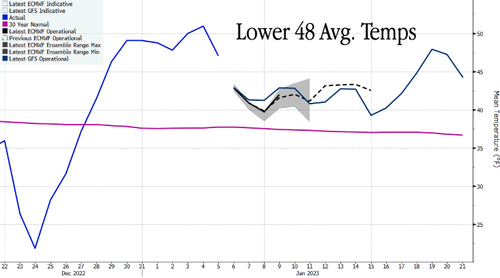 This means heating demand for residential and commercial buildings will slump, alleviating supply concerns.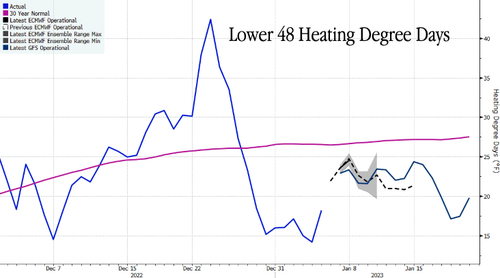 Houston-based energy firm Criterion Research sheds more color on why NatGas has fallen in recent weeks:
The natural gas market began the new year with very strong production and low demand, relative to normal weather. Production quickly recovered from the Christmas freeze-offs and is back near 99-100 Bcf/d, while demand has fallen through the floor amid above-normal temps across much of the country that are expected to last through the next two weeks. 
Natural gas production is starting 2023 strong, and if it holds near 100 Bcf/d through the remainder of the year, we should see the Fall EOS storage levels hold well above the five year average - reach out for a copy of our latest long-term S&D view today! #natgas #ongt pic.twitter.com/tkihl3ouCX

— Criterion Research (@PipelineFlows) January 6, 2023
Criterion Research also noted winter isn't over:
The nation is likely to face further cold shots before the winter ends in April, but the supply situation and a lack of new demand coming online this year is presenting a strong case for high storage levels by the fall. If production runs flat through the remainder of the year and we get normal weather, it's very likely that storage will be well above the five-year average by October 2022.
There's already chatter among weather folks on Twitter about the increasing possibilities of a polar vortex blast later this month or early next though nothing is concrete. 
EPS-weeklies showing some real signs of an SSWE "sudden stratospheric warming event" by week 3 and beyond which could at least make things a bit more interesting down the road. But through at least late January it looks warm for most east of the Rockies. https://t.co/vJEx50nL8m pic.twitter.com/pVPCQqHVOU

— Allan Huffman (@RaleighWx) January 6, 2023
Now THIS is the sort of warming signal that genuinely indicates a raised chance of a sudden stratospheric warming event.

Large warm anomalies that propagate across the N. Pole & into the polar vortex circulation.

Caution advised, however, as event initiation is 20+ days away. pic.twitter.com/QWqCNQ9SZK

— James Peacock (@peacockreports) January 5, 2023
#natgas
By Jan 22 the Arctic has accumulated an unprecedented amount of cold air (left, see white area, which is below scale in comparison Dec6,right). As the polar vortex weakens, this cold air will sweep over the continents in the second half of January leading to a cold winter pic.twitter.com/rKUGoPFryw

— Heinrich Leopold (@LeopoldHeinrich) January 6, 2023
Loading...