---
Winter Break? US Temperatures To Rise After Frigid Christmas Blizzard
Before New Year's Eve, the US will experience a much-needed shot of warm air after a week of arctic chaos that resulted in dozens of deaths, blizzards, power grid failures, and even looting. 
The turn-in average temperatures across the Lower 48 are already underway. By Wednesday, temperatures should average around a 30-year mean of 37 degrees Fahrenheit, a far cry from the below-average level of 21 degrees on Christmas. On New Year's Eve, average temperatures across the country could peak around 50 degrees. Above-average temperatures are expected to last through the first week of January.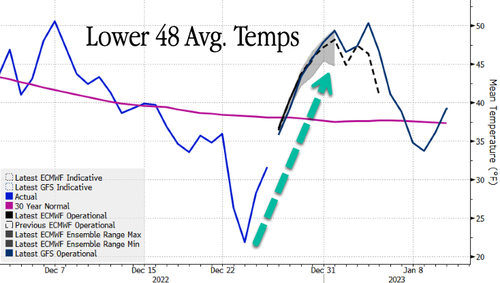 It appears Old Man Winter will give the nation a temporary break from the cold. Well, at least that's according to National Oceanic and Atmospheric Administration's 6-10 day temperature outlook and 8-14 day temperature outlook. Both show eastern half of the US could experience above-average temperatures. Meanwhile, the country's western half will be near normal averages. 
NOAA's 6-10 Day Temp Outlook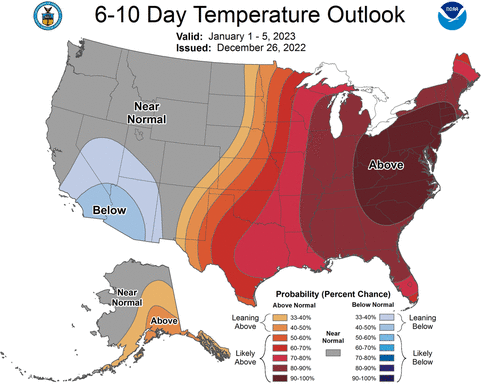 NOAA's 8-14 Day Temp Outlook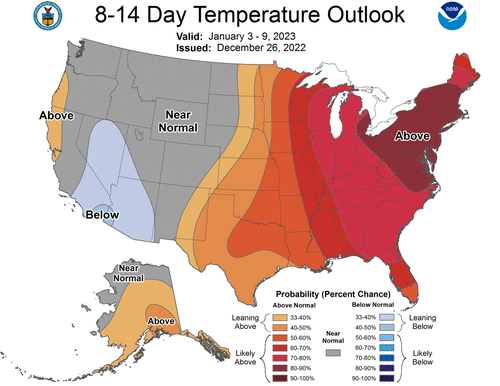 As for what to expect on the energy side of things, Houston-based energy firm Criterion Research told clients this morning that natural gas demand should slide because of warmer temperatures. Here's a snippet of their note:
Welcome back after the long weekend. Between Friday's and today's 00z model runs, the Euro Ens shifted colder for most of the Lower 48. Today's change was limited, given the changes we saw last week.

The Lower 48 pattern shifted colder in the 11-15 day period, dropping average temps below normal.

This week is still cold, but next week warms +11 degrees. The week of 1/13 should be closer to what we saw in mid-December.

Lower 48 natural gas demand will slide to 107 Bcf/d this week and then a much lower 87 Bcf/d amid next weeks above normal pattern.
In recent sessions, energy traders looked past the cold blast and sold NatGas on prospects of warmer conditions. Prices for the fuel on the New York Mercantile Exchange's Henry Hub trade around $5 per million metric British thermal units, or mmBtu.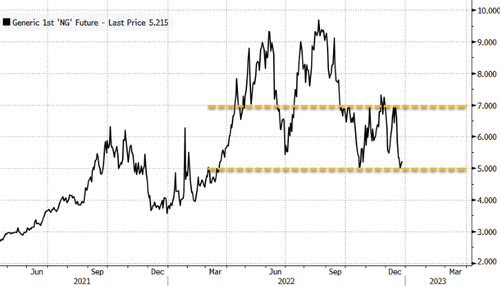 And it's only a matter of time before longer-range weather forecast models point to the next major arctic blast. 
Loading...