---
World's Longest-Lasting Cyclone To Hit Africa For Second Time
Last month, Tropical Cyclone Freddy formed off the North Australian coast in the Indian Ocean. It has now broken the record for the longest-lasting recorded storm as it churns off the coast of Madagascar. There are forecasts that it will make landfall again in the southern African country of Mozambique. 
Freddy developed off the North Australian coast on Feb. 6. The storm strengthened and crossed the entire South Indian Ocean before making landfall on Madagascar on Feb. 21 and then on Mozambique three days later.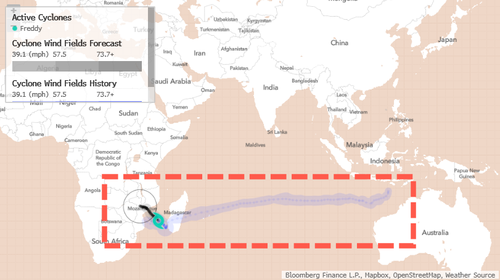 "Meteorologically, Freddy has been a remarkable storm," World Meteorological Organization (WMO) wrote in a press release, adding that its journey across the entire Indian Ocean and onto Madagascar "is very rare."
On Tuesday, Freedy reached the 31-day milestone, forecasted to hit Mozambique at the end of the week (for the second time). It has now exceeded the longest-lasting tropical storm, which Hurricane John set in 1994, also lasting 31 days. 
"At this time, it does appear to be a new record holder for 'longest-lasting' recorded tropical cyclone… but we are continuing to monitor the situation," Randall Cerveny, WMO rapporteur for weather and climate extremes, said in a statement. 
Loading...