---
"Worse Than Yesterday": Dense Wildfire Smoke Moving Over Nation's Capital
Update (1130ET):
The good news: Mayor Eric Adams of New York said Thursday morning that "smoke models are not indicating another large plume over the city," and there is a chance of "significant improvement" in air quality on Friday. 
The bad news: Air quality indices in many Northeast and Mid-Atlantic cities are registering at "hazardous" levels.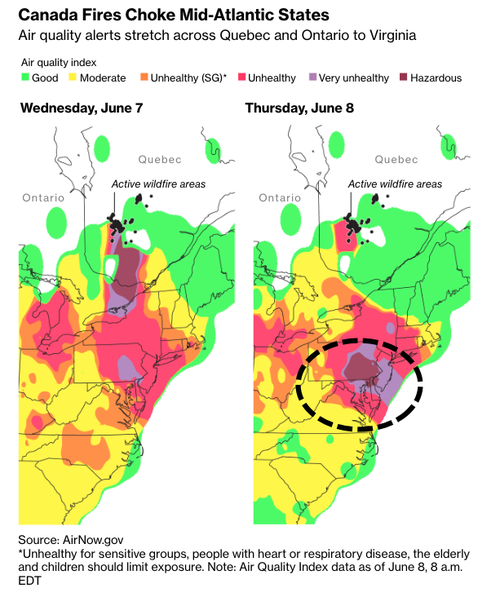 The Mid-Atlantic states bear the brunt of the Canadian wildfire smoke today, while Northeast states may see relief as soon as Friday. 
*   *   * 
Update (0925ET): 
Well, some major papers in the Northeast don't seem too enthusiastic about Canada right now. Here are a few of the front pages (courtesy of CNBC's Carl Quintanilla):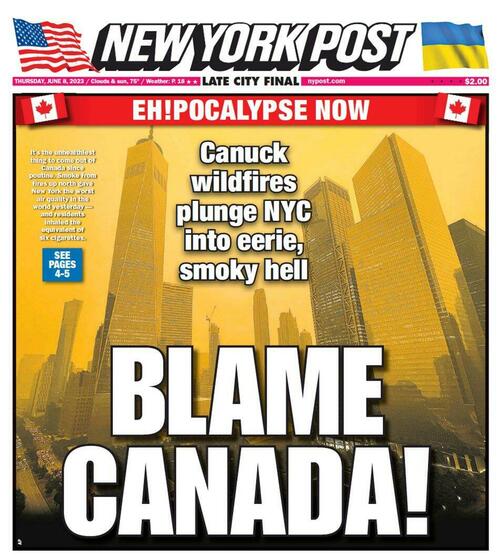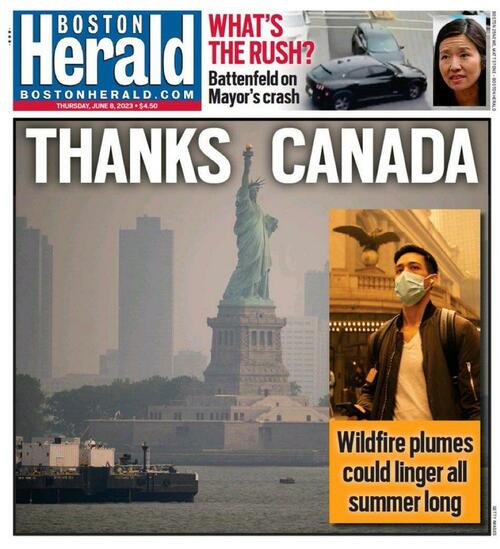 *   *   * 
Update (0710ET):
The FAA has reported this morning's first flight disruption at LaGuardia Airport due to the wildfire smoke-induced low visibility, which has resulted in the grounding of inbound flights.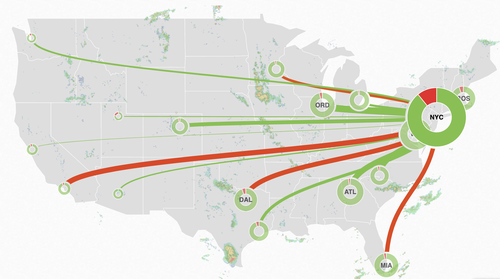 *   *   * 
As dawn broke on Thursday in the Northeast and Mid-Atlantic areas, smoke from hundreds of Canadian wildfires cast a persistent haze and could last another day. The polluted air from our northern neighbors sent air quality in major metro areas to levels worse than in India, sending people with severe health issues such as asthma to the hospital, disrupting air travel, and even postponing professional sporting events. Video clips from New York City on Wednesday evening reminded us of scenes from the movie Blade Runner 2049. 
According to a New York Times analysis of weather models, the worst of the smoky air will last in NYC through Thursday morning. A dense haze is expected across a large swath of the Baltimore–Washington metropolitan area throughout the day.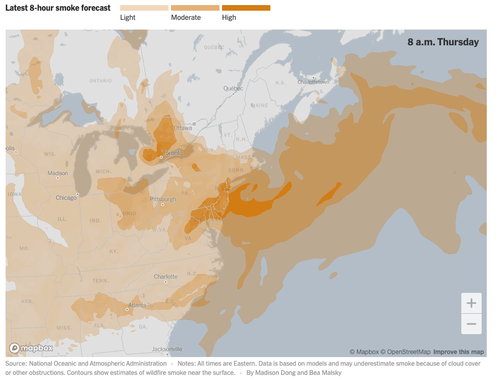 Air quality website AirNow shows the level of particulate matter in the air from smoke is extremely "hazardous" for many metro areas across the Mid-Alantic to the Northeast.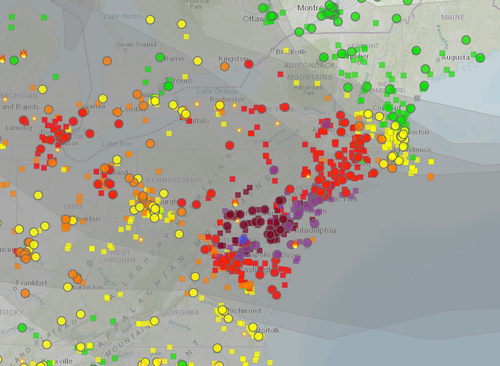 Meteorologist Rob Guarino tweeted peak smoky air will be Thursday morning as "much better air quality" will be seen late afternoon.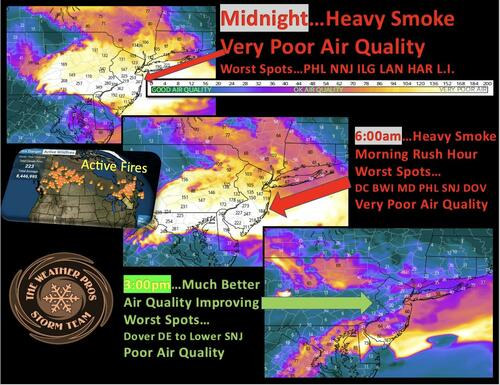 There are still apocalyptic skies and hazardous air stinging eyes and causing dry coughs for millions this morning. 
SMOKEFEST: DAY 3 - poor air quality remains throughout the east coast due to wildfire smoke once more.🔥#NYwx #PAwx #DCwx #wxtwitter #QuebecWildfires #wildfiresmoke @MaryKPIX @RobMayeda @MabrisaWX @danncianca @Holden_WX @CraigHerreraTV @JasonStiff @spann @geravitywave @jackjlee pic.twitter.com/2gtxRA2SOy

— luis · ᜎᜓᜁᜐ᜔ (@luisocpo_06) June 8, 2023
Gm this smoke is getting crazy in MD pic.twitter.com/RQw1KnEZqa

— Joker (@The_Bmore_Joker) June 8, 2023
Another day of wildfire smoke and poor air quality. Today worse than yesterday. 6am pics of DC region and Philadelphia pic.twitter.com/WV3IGaLf2S

— Steve Chenevey FOX5 (@stevechenevey) June 8, 2023
Earthcam footage of Midtown around 0622 ET.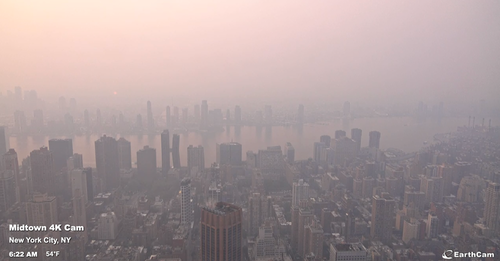 East Coast folks are getting a dose of what it's like to live on the West Coast. 
Loading...