---
Warring Sides Vie For 'Alternative' Grain Export Plans As Russia Escalates With Strikes On Danube Port
UN secretary-general António Guterres on Monday pleaded for Russia to immediately return to the Black Sea grain deal in order to stave off a food crisis amid rising prices.
"With the termination of the Black Sea Initiative, the most vulnerable will pay the highest price," the UN chief said. "When food prices rise, everybody pays for it. This is especially devastating for vulnerable countries struggling to feed their people."
But President Putin has been saying the opposite—that Ukraine exports have been intentionally favoring European partners while hard-hit populations in Africa and the Middle East suffer most. He has asserted repeatedly that Moscow did not sign on to the Turkey/UN-mediated grain export initiative in order to unfairly benefit already wealthy and food-secure Western nations.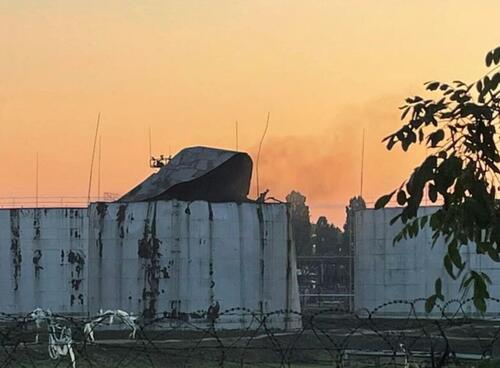 Guterres didn't address these arguments of Putin, instead he pressed for the Russian Federation to "return to the implementation of the Black Sea Initiative, in line with my latest proposal."
"I urge the global community to stand united for effective solutions in this essential effort," Guterres said. "I remain committed to facilitating the unimpeded access to global markets for food products and fertilizers from both Ukraine and the Russian Federation, and to deliver the food security that every person deserves."
The UN chief's plan being referenced is described as follows:
He proposed Russia extend it – with a daily limit of four ships traveling to Ukraine and four ships leaving – in return for connecting a subsidiary of Russia's Agricultural Bank, Rosselkhozbank, to the SWIFT global payments system, which the EU cut off in June 2022.
Putin has also alleged that Ukraine has been hiding military cargo under the guise of exporting foodstuffs.
Because of this suspicion, Moscow days ago warned that foreign vessels seeking to enter Ukraine ports risk being treated as military targets. Ukraine then sought permission from Romania to use its territorial waters as an alternate route. Russia's military quickly responded on Monday.
"Russia for the first time on Monday attacked a port on the Danube River in Ukraine, close to the Romanian border, Ukrainian and Romanian officials said, destroying a grain hangar in an escalation of its efforts to cripple Kyiv's agriculture and risking a more direct confrontation with the United States and its European allies," The New York Times detailed of the fresh attack.
Russia is playing a dangerous game

Last night, they struck targets right next to the Romanian border for the first time.

This video was recorded by Romanians, showing the attacks on the port of Reni, right across the Danube river

Romania is a NATO state pic.twitter.com/mJSvlUbxDh

— Visegrád 24 (@visegrad24) July 24, 2023
"The assault on the port in the town of Reni, across the river from Romania, a NATO member, targeted Kyiv's alternative export routes for grain to reach world markets, days after Russia terminated a deal that had enabled Ukraine to ship its grain across the Black Sea," the report noted.
And crucially, "The attack is one of the closest Moscow has come to hitting the military alliance's territory since Russia's full-scale invasion of Ukraine last year."
Over 50 Cargo Ships are currently Anchored in the Danube River between Ukraine and Romania with most waiting for the Ports of Reni and Izmail in the Odesa Region of Ukraine to Reopen for Grain Shipment after they suffered a number of Strikes by Russia Shahed-136 "Kamikaze" Attack… pic.twitter.com/8d6zAjXpZP

— OSINTdefender (@sentdefender) July 24, 2023
Location of the Russian strikes, just on the Ukraine-Romania border...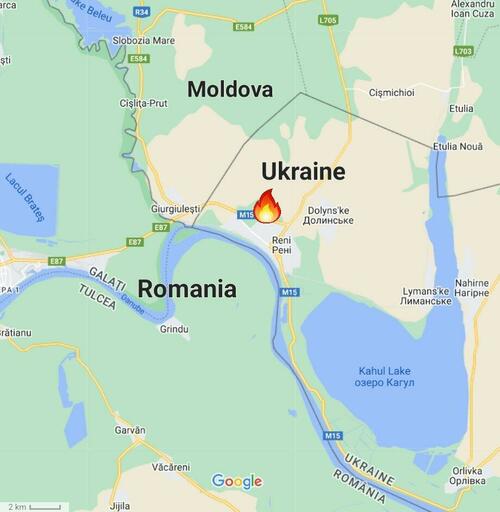 Meanwhile, both sides are floating contrasting 'alternatives' and replacements to the original Black Sea Grain Initiative, but without the participation of the other. At this point, none of these ideas have been formalized. FT reported days ago:
Russia is pushing a plan to supply grain to Africa and cut Ukraine out of the global market after Moscow's withdrawal this week from a UN-backed deal, according to three people familiar with the matter. President Vladimir Putin has proposed a replacement initiative whereby Qatar would pay Moscow to ship Russian grain to Turkey, which would then distribute the crop to "countries in need", the people said.
As for Kiev, it is hoping to establish a land corridor for the export of Ukrainian food products to the EU, according to a fresh statement by Zelensky. But there are two obvious issues based on the greater logistical complexity (and in a warzone): 1) No comparable infrastructure exists to ship the same large-scale amounts by road, and 2) the price of the same shipments will massively increase.
At the same time Russia is likely to escalate its attacks based on its rationale of 'suspected arms cargo' being hidden in the shipments. In this way immense pressure is being further brought to bear on Ukraine and its external backers (namely, what's looking like a full export blockade taking shape), also at a moment of the faltering counteroffensive. Is this the start of the end-game for Ukraine's defense efforts? Will catastrophe on top of catastrophe for Ukraine finally lead to some kind of negotiations in the near future?
Loading...