---
Brazil Displaces US As Corn-Exporter King As Trade Winds Shift
It appears that a new world order is emerging, with BRICS and the Shanghai Cooperation Organization offering trade alternatives to the hegemonic West. The latest example of a multi-polar world is the US being displaced by BRICS country Brazil as the world's top corn supplier. 
The US held the crown for fifty years as the world's top corn exporter. A new Blomberg report, citing data from the US Department of Agriculture (USDA), shows the five-decade reign is over:
In the 2023 harvest year, the US will account for about 23% of global corn exports, well below Brazil's nearly 32%, US Department of Agriculture data show. Brazil is seen holding onto its lead in the 2024 planting year that begins Sept. 1, too. Only once in data going back to the Kennedy administration did America drop out of first place before: for a single year in 2013 following a devastating drought. The US corn-exporting industry has never before spent two back-to-back years in second place — until now.
It's not corn. Brazil has also displaced American farmers in both soybean and wheat exports. Bloomberg explained more: 
Losing its lead in corn exports may feel familiar to American farmers, who in the last decade have also relinquished the top spot in both soybean and wheat exports. Soy was the first to go, with Brazil definitively taking the lead in 2013. The next year, the US lost its wheat dominance, too, with the European Union, then Russia, beginning to elbow out American farmers in the global market.
The export ag market share slide is troubling news for the domestic industry that exported $200 billion in farm products in 2022. Sliding dominance may suggest that farmer incomes may slide in the years ahead.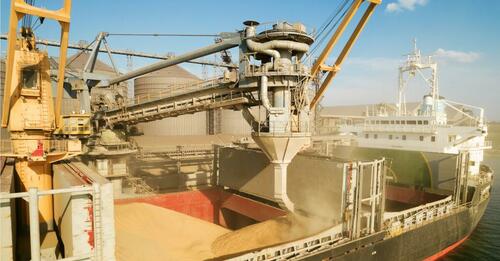 Stephen Nicholson, global grains and oilseeds sector strategist with Rabobank, an agricultural lender, told Reuters:
"When we look at US corn demand long term, we wonder where new demand is coming from. 

"Brazil is likely taking a bigger share of the global market, ethanol has likely peaked and animal protein is likely not going to grow fast enough." 
The reason for the shift is a rejiggering of China's ag trade away from the US to Brazil. China signed a deal with Brazil last year to increase gain purchases. 
"Brazil has the ability to ramp that planting area up to meet Chinese demand in a way that the United States doesn't," said Matthew Roberts, senior grain analyst with consultancy Terrain.
Plus, the Chinese are steering clear of US trade because lawmakers on Capitol Hill have been in a frenzy to weaponize the dollar and trade against Beijing. 
"The US reminds me of the frog being slowly boiled," Ann Berg, an independent consultant and veteran trader who started her career at Louis Dreyfus Co. in 1974, told Bloomberg. 
Berg said, "It's lost its dominance, but it took 40 years."
We've outlined that the emergence of BRICS as an alternative to Western hegemony will cause the global economy to evolve in three phases. For more on that, read "Breaking Dollar Hegemony, BRICS Nations Are Leading The World To Hyperbitcoinization." Also, read "A Multi-polar World Is Emerging."
Loading...