---
De-Dollarization? China Completes First Digital Yuan Purchase For Cross-Border Oil Transaction
De-dollarization continues accelerating with news of the Shanghai Petroleum and Natural Gas Exchange (SHPGX), a Chinese-backed exchange for trading energy-related products, settling its first cross-border transaction in digital yuan.
Chinese-based financial news outlet "Yicai" first reported PetroChina International bought one million barrels of crude oil using digital yuan on Thursday. It was the exchange's first overseas oil settlement in digital yuan. However, the name of the seller was not disclosed. 
SHPGX has made several transactions in yuan earlier this year: In March, PetroChina and TotalEnergies completed a yuan-denominated liquefied natural gas transaction on the exchange. According to the exchange, four such LNG transactions have occurred this year.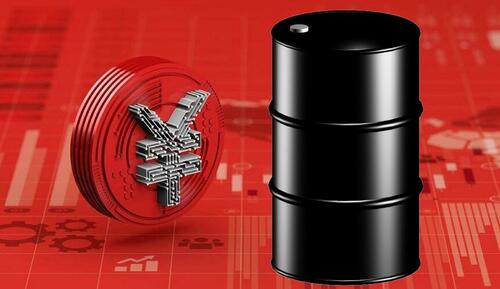 China's central bank began the digital yuan project in 2014 and has piloted the electronic currency in numerous regions across China. The world's second-largest economy has been preparing to use the yuan and its digital version in international trade and finance as an alternative to the dollar. 
In August, Brazil's President Luiz Inacio Lula da Silva called for BRICS nations to create a common currency as the world furiously searches for ways to circumvent the dollar-based financial system. 
Brazil's president said a BRICS currency "increases our payment options and reduces our vulnerabilities." 
The US shutting Russia out of the SWIFT messaging system that underpins most global payments in response to its invasion of Ukraine has supercharged the de-dollarization trend. 
It remains to be seen who exactly PetroChina paid digital yuan for the crude oil, but it might not be out of the question that it was Russia, considering it's been shut out of the SWIFT system, plus oil exports to China have hit a record high. 
Loading...