---
Florida Citrus Industry Posts Worst Year Since 1930s After Hurricane Damage And Crop Disease
Authored by Bryan Jung via The Epoch Times,
Florida's citrus industry posted its worse harvest since 1937, which should give orange fans some pause at the supermarket.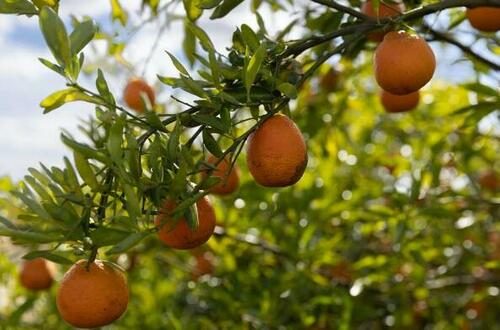 Damage from the 2022 hurricane season, combined with the impact of citrus greening disease, is ravaging the Sunshine State's orange crop.
This will likely cause citrus prices to skyrocket nationwide, as Florida farmers recorded its smallest orange harvest in 90 years, according to the state's latest agriculture report.
The U.S. Department of Agriculture said in January that only 18 million boxes of Florida oranges would be on the market in 2023, a 56 percent drop from last year.
Peak orange production in Florida is normally at 244 million boxes a year.
"No doubt, as the supply of juice continues to rise because of the storms and the low harvest. The prices of oranges are gonna go up and that's simple supply and demand," Matt Joyner, CEO of Florida Citrus Mutual, told Fox Business.

"We are devoted to getting back into production and making sure that the orange juice that Americans know and love is available to them. Hopefully, we'll see these prices come back down soon."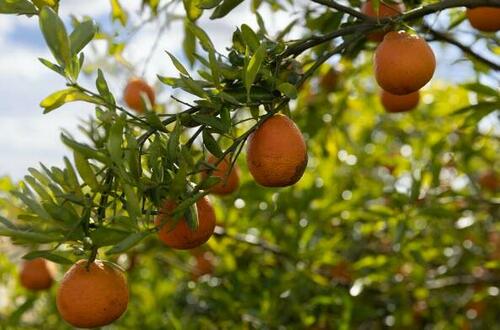 Oranges hang on a tree at one of the Peace River Packing Company groves in Fort Meade, Fla., on Feb. 1, 2022. (Joe Raedle/Getty Images)
Sparking Worldwide Shortages
The collapse of Florida's orange harvest is having effects worldwide, as the Sunshine State, along with Brazil, produces the majority of oranges for the global citrus market.
The Wall Street Journal reported that the price for a gallon of orange juice in some parts of the United States is already above $6.
U.S. orange prices have already risen 25 percent, while other countries have seen prices more than double.
"Congress, back in December, appropriated money for disaster relief, and there was money for agriculture nationwide, which would include the disasters here in Florida from 2022," said Joyner.
"Unfortunately, we've not seen any of that aid make it down to the state yet, but we continue to have conversations with USDA, and we're hopeful that maybe some of those funds will start flowing," he added.
The $9 billion citrus industry employs more than 76,000 full- and part-time workers and provides over 90 percent of orange juice consumed in the United States.
Natural Disasters
The University of Florida's Institute of Food and Agricultural Sciences estimated that Hurricane Ian caused more than $1 billion in damage to the state's agriculture industry, including $247 million to the citrus crop.
Massive winds, rainfall, and flooding caused damage in nearly 77 percent of the state's counties.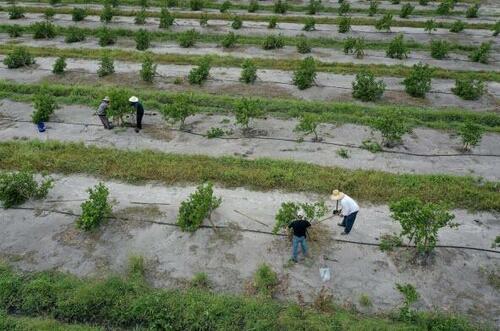 Workers attempt to prop up with stakes the new growth orange trees in an orange grove in Arcadia, Fla., on Oct. 20, 2022, in the wake of Hurricane Ian. (Joe Raedle/Getty Images)
However, the situation worsened with a hard freeze in January that ruined many surviving oranges.
"It's eight months after the storm and you can imagine the difficulty that growers are having in recovering and going on with their operations without any kind of disaster relief at all," said Joyner.
The advocacy group Florida Citrus Mutual, along with a delegation of citrus growers, met with USDA officials and members of Florida's Congressional delegation in May to discuss further hurricane relief
Farmers are currently more worried about the spread of citrus greening disease which was first detected in 2012 in California and is beginning to sweep the Florida peninsula.
Some growers have planted disease-resistant orange tree rootstocks developed by University of Florida citrus researchers in a bid to save the industry.
The bacteria are a threat to most of Florida's citrus trees, leaving bitter, greenish fruits that are inedible.
Loading...