---
IEA Cuts Global Oil Demand Outlook, Blames "Persistent Macro Headwinds"
The world's oil demand is set to rise by 2.2 million barrels per day (bpd) in 2023 to reach an average of 102.1 million bpd, a new record, the International Energy Agency (IEA) said in a report on Thursday. However, growth demand forecasts were revised lower due to "persistent macroeconomic headwinds" as global central banks spent the last year and a half aggressively raising interest to curb the highest inflation in a generation. 
IEA's demand forecast was revised slightly lower by 220,000 bpd versus last month's forecast of 2.4 million bpd. 
"Persistent macroeconomic headwinds, apparent in a deepening manufacturing slump, have led us to revise our 2023 growth estimate lower for the first time this year," the Paris-based energy watchdog wrote in its latest oil market report. 

"World oil demand is coming under pressure from the challenging economic environment, not least because of the dramatic tightening of monetary policy in many advanced and developing countries over the past twelve months," the agency added.
The report said oil markets are tightening, some of which has to do with OPEC+ members pledging to remove supply from global markets to counteract the loss in demand as the global economy slumps. IEA noted demand is set to outstrip supply for the rest of this year. 
World oil supply rose 480 kb/d to 101.8 mb/d in June but is set to fall sharply this month as Saudi Arabia makes a sharp 1 mb/d voluntary output cut. For 2023, global production is forecast to increase by 1.6 mb/d to 101.5 mb/d, as non-OPEC+ expands by 1.9 mb/d. In 2024, global supply is set to rise by 1.2 mb/d to a new record of 102.8 mb/d, with non-OPEC+ accounting for all of the increase.
IEA pointed out China accounted for more than two-thirds of this year's demand growth. It added the world's second-largest economy has experienced a slow start to its post-Covid recovery: 
"China's widely anticipated reopening has so far failed to extend beyond travel and services, with its economic recovery losing steam after the bounce earlier in the year."
The report pointed out the gloom in Europe: 
"Demand in the OECD, and Europe in particular, is languishing amid a grinding slowdown in industrial activity."
Crude futures rose above $80 a barrel this week for the first time since late April.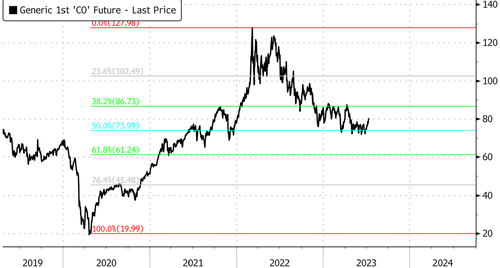 Looking ahead to 2024, IEA expects oil demand growth to be halved to 1.1 million bpd because "recovery loses momentum and as ever-greater vehicle fleet electrification and efficiency measures take hold." 
The Thursday report comes as global central banks have been aggressively hiking interest rates for the last 1.5 years to tame inflation. There are signs the Federal Reserve is winning the fight against inflation, and the peak hiking cycle is nearing. However, the risk of overtightening could spark a hard economic landing. 
Loading...