---
'The Most Insane Thing Ever' - Man Finds Huge Hoard Of Civil War Gold On Kentucky Farm
A Kentucky man has unearthed an astounding cache of Civil War-era gold coins from a cornfield on his farm. Among the hundreds are a type of coin that has sold at auction for more than $100,000 -- and there are about eighteen of them.  
While the extraordinarily lucky man's identity and the location of his property are still under wraps, his find has been certified by the Numismatic Guaranty Company (NGC), which describes itself as "the world's largest and most trusted third-party grading service for coins, tokens and medals." The treasure heap has become an instant numismatic legend, christened as "The Great Kentucky Hoard."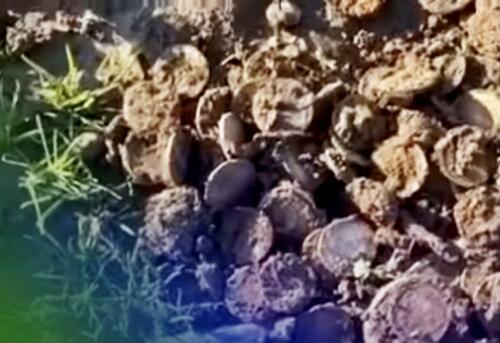 "The importance of this discovery cannot be overstated, as the stunning number of over 700 gold dollars represents a virtual time capsule of Civil War-era coinage, including coins from the elusive Dahlonega Mint," says rare coin dealer Jeff Garrett, who was tapped to study the coins... 
"Finding one mint condition 1863 Double Eagle would be an important numismatic event. Finding nearly a roll of superb examples is hard to comprehend."
In a very short video posted to GovMint.com's YouTube channel, a breathless man can be heard marveling at the wealth of real money that had been trapped in the soil for a century and a half, saying, "This is the most insane thing ever. These are all $1 gold coins, $20 gold coins, $10 gold coins and, look, I'm still digging them out."
The hoard "includes a group of finest-known 1863 Double Eagles and hundreds of US Gold Dollars dated 1850 to 1862, as well as a small number of silver coins. Several interesting varieties and errors were also discovered," says NGC in their detailed description of the hoard.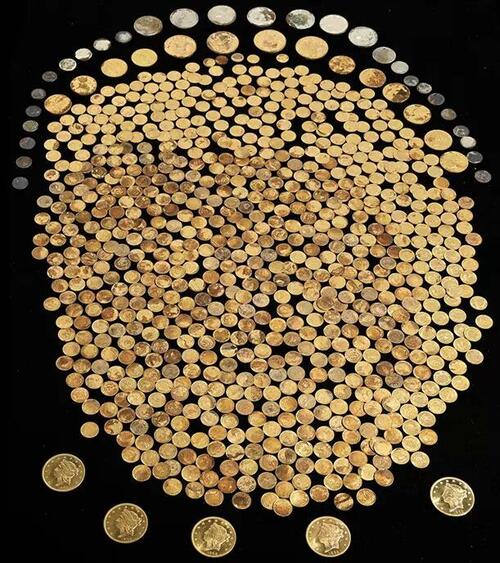 Coins from the hoard are being prepared for sale, with GovMint.com tapped as the middleman. Here's how the firm summarizes the hoard at a dedicated web page promoting the offering:
This Hoard consists of U.S. Gold Dollars in Type I, Type II and Type III with the date range of 1854-1862. The Gold Dollars make up 95% of this hoard. Also found are about twenty $10 Liberty's with a date range of 1840-1862, and eight $20 Libertys dated between 1857 and 1862. But—likely the most amazing discovery in this hoard is about eighteen 1863-P $20 Gold Liberty coins, one of the rarest dates in the $20 Liberty series! This is a coin that often commands a six-figure price. 
This should be good for metal detector sales. 
Loading...