---
Oil About To Take Out 2023 Highs
By Grant Smith, Bloomberg markets live reporter and strategist
Oil's advance since the start of the second half appears to be regaining momentum as the global market continues to tighten. A looming price level may determine whether the rally reaches this year's highs.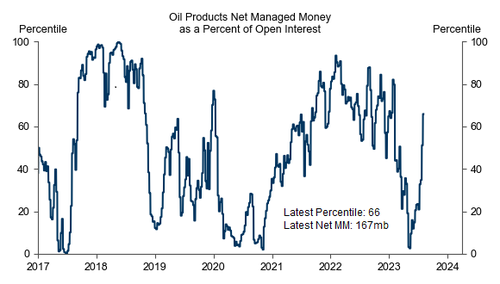 Brent crude futures are trading near $87 a barrel after climbing for six weeks in a row. Since the start of the year, traders had wagered that the second half of 2023 would usher in a rally and, right on cue, inventories in the US have been tumbling.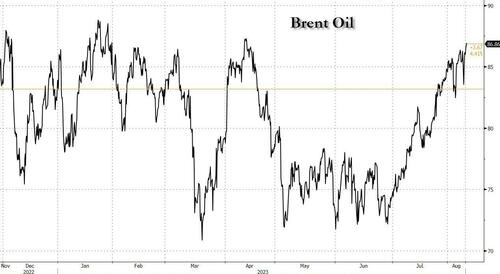 Oil briefly stumbled earlier this week, pressured by further disappointing indicators from China, with imports sliding to a six-month low and trade plunging in July. But the setback didn't last long, and futures are gaining again today despite the arrival of deflation in the world's biggest oil importer.
The supply side is tightening as OPEC+ leader Saudi Arabia delivers on a hefty 1 million barrel-a-day cutback pledged for this month and next. The kingdom has thrown a bone to bullish traders by hinting it could even cut output deeper if the market requires. Even Russia, which has largely flouted its OPEC+ commitments for months, is belatedly lending a hand. Projections from the International Energy Agency point to a steep depletion of oil stockpiles for the rest of the year.
Time-spreads testify that the rally has firm underpinnings: the premium on front-month Brent contracts versus those six months out has ballooned to $2.50 per barrel from just over $1 at the start of last month. Such a marked premium, known as backwardation, usually signifies that demand is outstripping supplies.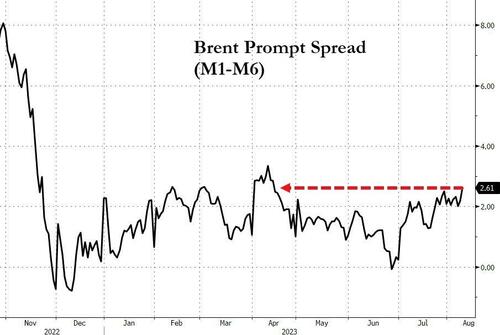 There are still plenty of hurdles in oil's path, from lingering fears of recession in the US and the lackluster recovery in China to the prospect of revived supplies from Iran, Venezuela or Iraq.
Oil bulls have largely scaled back their initial buoyant forecasts for 2023, but from Standard Chartered to UBS to Macquarie, there are plenty who still see prices hitting $90 a barrel or higher before the year is out.
The next test for whether they're right could come soon: Brent is zeroing in on $87.49, the highest point in the past six months, previously reached on April 12. Crude has approached it before without breaching it. If Brent can clear that threshold, it could open a path to test the 2023 peaks — set in January — of just over $89 a barrel.
Loading...