---
OPEC Credibility On The Line With Talk Of More "Ouching"
By John Kemp, Reuters senior energy analyst
Saudi Arabia's energy minister has warned speculators to "watch out" - an implied threat to cut production again to drive prices higher when ministers from the expanded OPEC⁺ group of exporters meet on June 4.
"I keep advising them (speculators) that they will be ouching, they did ouch in April, I don't have to show my cards, I am not a poker player … but I would just tell them watch out," Energy Minister Prince Abdulaziz bin Salman said at a conference on May 23.
Total hedge fund short positions in the three main Brent and WTI futures and options contracts had more than doubled to 184 million barrels on May 16 from 79 million four weeks earlier.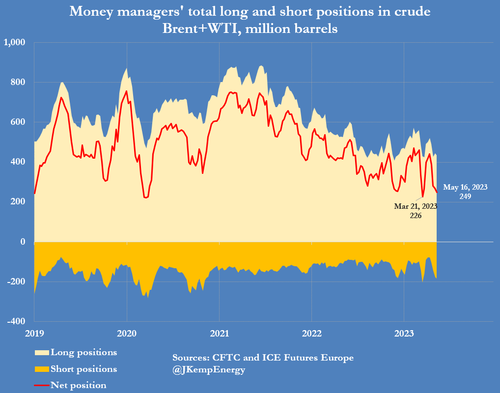 In a marked turnaround in sentiment, bullish fund positions outnumbered bearish short ones by a ratio of 2.35:1 (13th percentile for all weeks since 2013) down from 6.62:1 (82nd percentile) on April 18. Even so, shorts were still below the recent high of 204 million barrels in late March before Saudi Arabia and its OPEC+ allies squeezed them by unexpectedly announcing an output cut of more than 1 million barrels per day.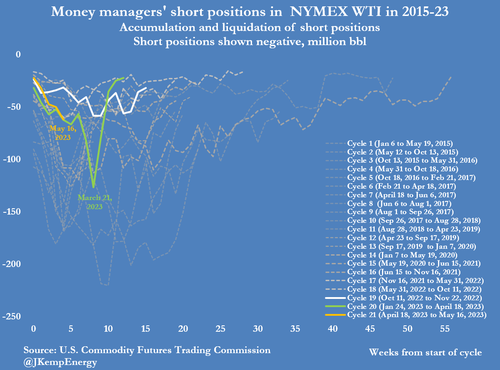 The threat posed by the impending ministerial meeting, amplified by the minister's comments, has likely contributed to the slight rise in front-month Brent futures prices and calendar spreads in recent days.
But it also means traders have started to price in the probability of at least some production cuts being announced at the next meeting.
Building up expectations in this way could prove risky. OPEC+ will likely have to cut its production targets or risk being thought to have made an empty threat.
If OPEC+ ministers decide to leave their production target unchanged, prices and spreads are likely to retreat as their bluff is called.
BATTLING THE TIDE
Saudi Arabia and its OPEC+ allies have been battling to stem the downward pressure on oil prices since September and October 2022 when they started to scale back their production targets.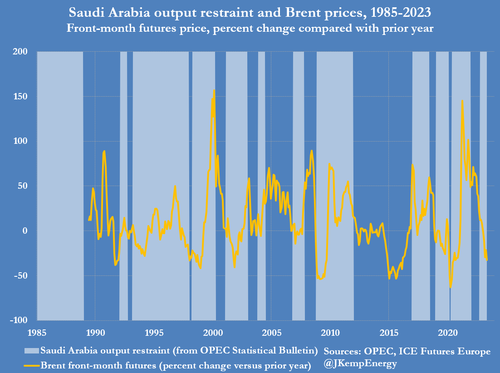 But the business cycle slowdown across the major economies has exerted so much downward force that OPEC⁺ has had only modest success in offsetting it.
Front-month futures prices and calendar spreads usually rise when OPEC restrains output, at least for a time, until discipline within the cartel starts to slacken.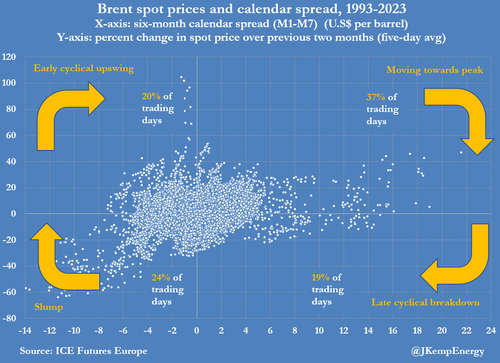 In this instance, however, prices and spreads have continued to soften despite multiple announcements that reduced output compared with the previous target.
At the start of October 2022, front-month Brent futures were trading around $90 per barrel while the six-month calendar spread was in a backwardation of almost $8.
Since then, OPEC⁺ members have cut their collective target by almost 3.6 million barrels per day, but the front-month price has slipped to $78 and the spread is down to $2.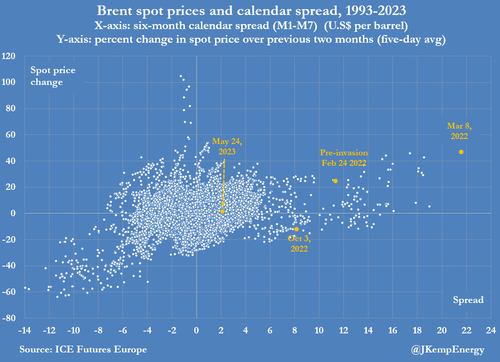 Several factors have combined to create intense downward pressure on oil prices:
Russia's petroleum exports have remained higher than anticipated as a result of a relaxed approach to enforcement of EU and U.S. sanctions.
China's economic rebound from coronavirus lockdowns and the exit wave of the pandemic has been slower than predicted.
Manufacturing and freight activity across North America and Europe have weakened - cutting consumption of both crude and middle distillates such as diesel.
Persistent inflation has forced the U.S. Federal Reserve and other central banks to lift interest rates higher for longer to bring price increases back under control.
The U.S. regional banking crisis that erupted in March with the failure of Silicon Valley Bank threatens to compound the tightening of financial conditions and prolong the business cycle downturn.
OPEC+ production cuts have averted a big increase in oil inventories and a steeper fall in prices and spreads, but they have not yet been enough to boost them, except in the short term.
Adjusted for inflation, front-month Brent futures prices are in the 47th percentile for all trading days since 2000, down from the 60th percentile at the start of October 2022.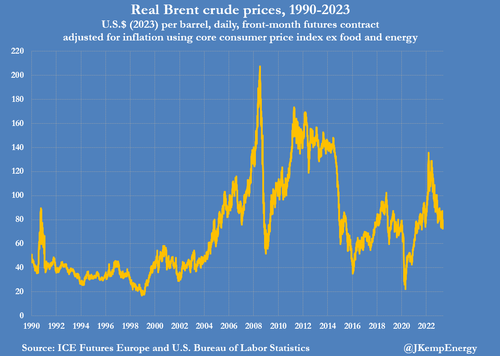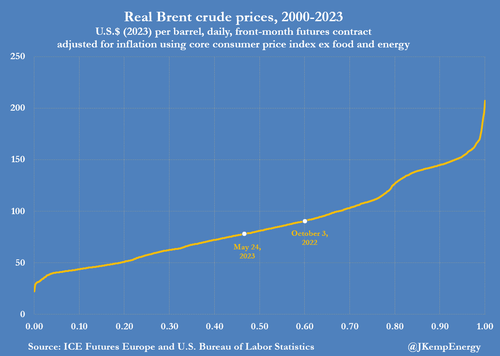 By preventing a big rise in global petroleum inventories, OPEC⁺ is creating conditions for a faster rebound in prices later in 2023 or in 2024.
But a durable rise in prices and spreads is waiting for some combination of lower petroleum exports from Russia and/or an improvement in the economic environment.
Loading...