---
Russian Strike On 'Defenseless' Danube Port Takes Out 40,000 Tonnes Of Ukraine Grain
Wednesday has witnessed major airstrikes on Ukrainian ports and the war-ravaged country's food export infrastructure, which comes in the wake of Russia refusing to renew the UN-brokered Black Sea grain initiative at the end of last month. 
Drones hit several sites before sunrise and through the early morning hours on Wednesday, including a major attack on Ukraine's Danube port, sending global grain prices higher. A large fire engulfed some 40,000 tonnes of grain at the Danube location, according to Ukraine government sources.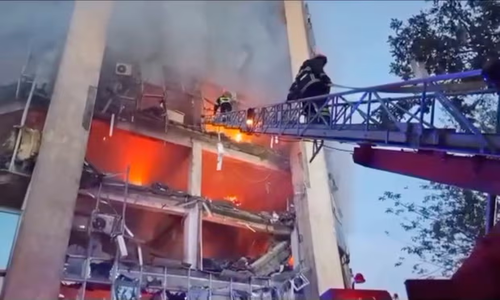 The level of damage at the Danube port of Izmail in the Odesa region is being described as "serious" in regional media, with Ukraine's defense ministry saying in a statement posted to Elon Musk's "X" that "Ukrainian grain has the potential to feed millions of people worldwide" and that the attacks constitute "terrorism".
"Unfortunately, there are damages," President Volodymyr Zelensky announced on Telegram. "The most significant ones are in the south of the country. Russian terrorists have once again attacked ports, grain, global food security."
Izmail had also been attacked in late July. An airstrike at that location is particularly provocative and dangerous, given it sits just on the border with NATO member Romania. Romania vehemently condemned that attack as "unacceptable". 
Kiev is saying almost 40,000 tonnes of grain was taken out on the Danube. Unconfirmed video which is widely circulating of the attack shows a completely defenseless Ukrainian port. Russian air power can simply take out silos at will, it appears...
Air strikes by two #Russian Su-34s using four FAB glide bombs with UMPCs on the identified positions of the #AFU in the boxes of the elevator and in the adjacent territory in the village of Cossack #Kherson region. Up to 30 soldiers, 10 vehicles and 7 boats were destroyed. pic.twitter.com/ev8kK5A6aK

— Cicke 🇷🇸 🇷🇺 🇺🇸☮🇧🇷🇮🇳🇨🇳🇿🇦 (@Cicke69) July 26, 2023
For this reason, Kiev will likely pile the pressure on the US and NATO backers to expedite the shipment and training progress for the promised F-16 fighter jets. Zelensky has been angry at what could be the West's 'slow-playing' this, given the risks of severe escalation with Russia.
Putin and Erdogan held a phone call, also Wednesday, wherein the Turkish leader urged a restoration of the deal as a "bridge for peace". 
Chicago wheat prices jumped 4% immediately after news spread through international news wires of the fresh attacks on Ukraine's grain, before sliding back down alongside all commodities Wednesday (as the dollar rallied)...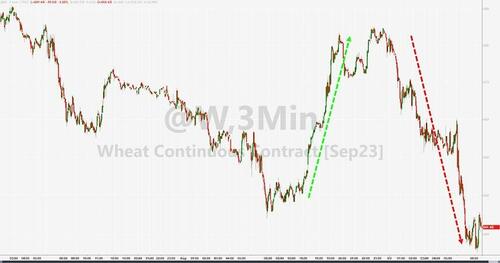 According to analysts cited in Reuters, Ukraine's grain exports for July were down 40% from June, following the deal's collapse on July 17, which would have been its renewal point.
"Ukrainian officials have said Moscow has hit 26 port facilities, five civilian vessels and 180,000 tonnes of grain in nine days of strikes since quitting the grain deal," Reuters noted based on Ukrainian official sources.
Loading...