---
US Gasoline Prices Reach 8-Month High
By Julianne Geiger of OilPrice.com
U.S. retail gasoline prices reached their highest levels since November. Average gasoline prices have risen by 13.4 cents from a week ago today, according to AAA data published on Thursday.
The current price for the average gallon of retail gasoline in the United States climbed to $3.714 per gallon on Thursday—up from $3.687 per gallon the day before. A week ago, gasoline was $3.580 per gallon.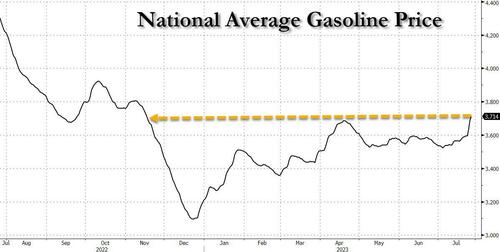 It is the highest price we've seen yet this year, and is the second-highest price for this time of year over the last decade, behind last year, AAA data suggests.
Earlier this week drivers saw the largest single-day increase in more than a year after a price hike of more than 4 cents per gallon.
The EIA estimated that gasoline inventories fell again in the previous week by another 800,000 barrels, and are 7% below the five-year average for this time of year, with gasoline production dipping to 9.5 million barrels per day. It is the lowest seasonal inventory level since 2015.
Exxon Mobil had to shut down a gasoline unit at one of the largest refineries in the United States for expected repairs at the beginning of this week, sending gasoline futures up more than 5% on the news.
The refinery has a capacity of 522,000 barrels per day, and may be closed for up to four weeks before repairs are completed.
According to GasBuddy data released earlier in the week, U.S. retail gasoline demand rose 0.6% in the week ending Saturday—a week that typically represents peak summer driving season in the country. The largest demand hike for the week was seen in PADD 2, according to GasBuddy.
[ZH: Wholesale Gasoline prices are exploding higher - signaling, due to the implicit lag between wholesale distribution and retail pump prices, that the fecal matter may be about to strike the rotating object once again...]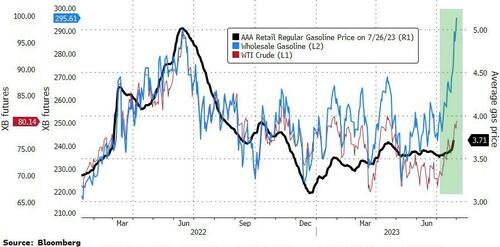 Is it time for the Biden admin to start draining the SPR again?
Loading...