---
FDA Drops Ivermectin Bombshell
Authored by Zachary Stieber via The Epoch Times,
Doctors are free to prescribe ivermectin to treat COVID-19, a lawyer representing the U.S. Food and Drug Administration (FDA) said this week.
"FDA explicitly recognizes that doctors do have the authority to prescribe ivermectin to treat COVID," Ashley Cheung Honold, a Department of Justice lawyer representing the FDA, said during oral arguments on Aug. 8 in the U.S. Court of Appeals for the 5th Circuit.
The government is defending the FDA's repeated exhortations to people to not take ivermectin for COVID-19, including a post that said "Stop it."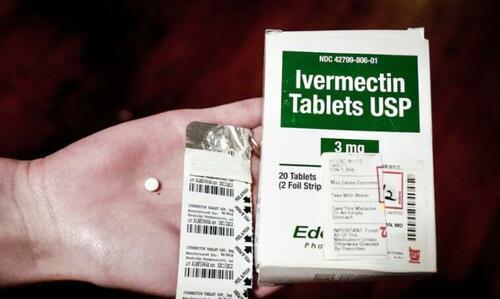 The case was brought by three doctors who allege the FDA unlawfully interfered with their practice of medicine with the statements.
A federal judge dismissed the case in 2022, prompting an appeal.
"The fundamental issue in this case is straightforward. After the FDA approves the human drug for sale, does it then have the authority to interfere with how that drug is used within the doctor-patient relationship? The answer is no," Jared Kelson, representing the doctors, told the appeals court.
The FDA on Aug. 21, 2021, wrote on X, formerly known as Twitter: 
"You are not a horse. You are not a cow. Seriously, y'all. Stop it."
The post, which linked to an FDA page that says people shouldn't use ivermectin to prevent or treat COVID-19, went viral.
You are not a horse. You are not a cow. Seriously, y'all. Stop it. https://t.co/TWb75xYEY4

— U.S. FDA (@US_FDA) August 21, 2021
In other statements, the FDA said that ivermectin "isn't authorized or approved to treat COVID-19" and "Q: Should I take ivermectin to prevent or treat COVID-19? A: No."
Command or Not
"FDA made these statements in response to multiple reports of consumers being hospitalized, after self medicating with ivermectin intended for horses, which is available for purchase over the counter without the need for prescription," Ms. Honold said.
A version of the drug for animals is available, but ivermectin is approved by the FDA for human use against diseases caused by parasites.
Ms. Honold said that the FDA didn't purport to require anyone to do anything or to prohibit anyone from doing anything.
"What about when it said, 'No, stop it'?" Circuit Judge Jennifer Walker Elrod, on the panel that is hearing the appeal, asked.

"Why isn't that a command? If you were in English class, they would say that was a command."
Ms. Honold described the statements as "merely quips."
"Can you answer the question, please? Is that a command, 'Stop it'?" Judge Elrod asked.
"In some contexts, those words could be construed as a command," Ms. Honold said.

"But in this context, where FDA was simply using these words in the context of a quippy tweet meant to share its informational article, those statements do not rise to the level of a command."
The statements "don't prohibit doctors from prescribing ivermectin to treat COVID or for any other purpose" Ms. Honold said. She noted that the FDA, along with the statements, said that people should consult their health care providers about COVID-19 treatments and that they could take medicine if it was prescribed by the provider.
"FDA is clearly acknowledging that doctors have the authority to prescribe human ivermectin to treat COVID. So they are not interfering with the authority of doctors to prescribe drugs or to practice medicine," she said.
Judge Elrod is on the panel with Circuit Judges Edith Brown Clement and Don Willett. All three were appointed under President Donald Trump.
Federal Law
The plaintiffs are Drs. Paul Marik, Mary Bowden, and Robert Apter. They say they were professionally harmed by the FDA's statements, including being terminated over efforts to prescribe ivermectin to patients.
Dr. Marik has noted that a number of studies support using ivermectin against COVID-19, as the FDA itself has acknowledged. Some other studies show little to no effect.
Federal law enables the FDA to provide information, such as reports of adverse reactions to drugs, but not medical advice, Mr. Kelson said.
"This is something the FDA has never been able to do. And it's a bright line," he told the court, adding later:

"The clearest examples of where they have gone over the line are when they say things like, 'You are not a horse, you are not a cow. Seriously, y'all. Stop it.'"
Judges indicated they agree that the FDA lacks the power to give medical advice; Judge Clement said, "You're not authorized to give medical advice."
But Ms. Honold said the government "isn't conceding that in this case."
She also argued that Congress has empowered the FDA to protect public health and make sure regulated products are safe and effective, giving it the "inherent authority to further its mission by communicating information to the public about safe uses of drugs."
A ruling in favor of the doctors would prevent the FDA from reporting on consumers suffering after cooking chicken with NyQuil or that opioid addiction is a problem, she claimed.
Mr. Kelson said that wasn't accurate. "It's when they step beyond that [and] start telling people how they should or should not be using approved drugs," he said.
Ms. Honold also said that the courts can't hold agencies accountable when they provide false or misleading information: "The FDA is politically accountable, just like all other executive agencies."
Loading...