---
It's Really Happening: Mask Mandates, Contact-Tracing Re-Implemented At Colleges, Offices
Authored by Steve Watson via Summit News,
There are reports circulating that colleges and offices are beginning to reinstate COVID mask mandates and contact tracing despite no new cases of the virus being reported.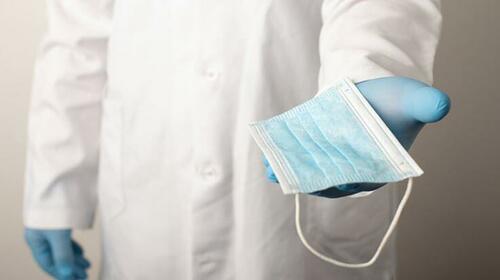 The Atlanta Journal-Constitution reported Monday that Morris Brown College, a black private liberal arts college has reinstated the measures as part of a "precautionary step." 
The report notes that students and staff will all be asked to mask up while on campus, only one week after classes began.
A communication issued by the college claims there have been "reports of positive cases among students in the Atlanta University Center," a consortium of black colleges and universities located on the western side of Atlanta.
From Instagram Morris Brown College bringing back a mask mandate. pic.twitter.com/KyqJUjMJgy

— Covid Report (@CovidDataReport) August 21, 2023
The measures, which include social distancing, temperature checks and no large gatherings are to be in place for two weeks, it is claimed.
This isn't from 2020. This is from today.

Alex Jones had the scoop of a lifetime that this was coming back. https://t.co/SfRqduWV4u

— Cernovich (@Cernovich) August 22, 2023
Infowars' Alex Jones reported last week that restrictions were on their way back:
BREAKING: Alex Jones says a TSA whistleblower has told him TSA employees were instructed on Tue that masks are coming back by October for travelers & full Covid restrictions/lockdowns by December due to a new "dangerous variant" out of Canada. pic.twitter.com/sw4b2XYuoh

— Melissa Tate (@TheRightMelissa) August 19, 2023
Alex Jones was right. https://t.co/qHymOshp9t

— Cernovich (@Cernovich) August 21, 2023
In addition, it has been reported that California-based film studio Lionsgate has reimplemented a mask mandate at its Santa Monica office.
"Amid rising Covid cases in Los Angeles, Lionsgate has brought back the mask mandate for nearly half of the company's employees at its flagship office at 2700 Colorado Ave. in Santa Monica." https://t.co/XLKaAjAWA3

— laurie allee (@laurieallee) August 21, 2023
An internal memo states that "Employees must wear a medical grade face covering (surgical mask, KN95 or N95) when indoors except when alone in an office with the door closed, actively eating, actively drinking at their desk or workstation, or if they are the only individual present in a large open workspace."
.@Lionsgate's Santa Monica headquarters:

-Medical mask mandate
-Daily self-screening for symptoms
-Quarantine for 10 days after international travel
-Contact tracing
-Covid tests upon requesthttps://t.co/HK8ec0jmZD pic.twitter.com/2JMJxvyLIo

— Anthony LaMesa (@ajlamesa) August 21, 2023
Los Angeles County Public Health has recommended that higher-risk residents need to wear masks, claiming that COVID cases are increasing, while admitting that hospitalizations remain low.
With COVID-19 Transmission Increasing, Those at Higher Risk Should Adopt Simple Strategies to Reduce Exposure, Prevent Severe Illness. View: https://t.co/VKLwWmbdqA pic.twitter.com/rjkrNUoZdQ

— LA Public Health (@lapublichealth) August 18, 2023
The mainstream media is on board with this imaginary "COVID resurgence":
They're trying to do the Covid thing again. pic.twitter.com/QPJS2PuXIC

— The Post Millennial (@TPostMillennial) August 18, 2023
*  *  *
Brand new merch now available! Get it at https://www.pjwshop.com/
In the age of mass Silicon Valley censorship It is crucial that we stay in touch. We need you to sign up for our free newsletter here. Support our sponsor – Turbo Force – a supercharged boost of clean energy without the comedown.
Also, we urgently need your financial support here.
Loading...