---
Crypto "Will Transcend International Currencies" BlackRock CEO Cheerleads As SEC Accepts Bitcoin ETF Application
Having told Fox Business last week that the role of cryptocurrency was largely "digitizing gold," suggesting US regulators consider how an ETF directly linked to Bitcoin could democratize finance, and has the potential to "revolutionize" the financial system; BlackRock CEO Larry Fink was once again doing the media rounds this week, expounding on his new (flip-flopped) role as crypto-cheerleader.
From crypto-hater in 2017, the CEO of the world's largest asset-manager is now telling anyone who will listen that crypto will transcend international currencies.
How it started👇 How it's going👇 pic.twitter.com/zHLB93vmgB

— Bitcoin Archive (@BTC_Archive) July 6, 2023
"More and more of our global investors are asking us about crypto," Fink said during an interview with CNBC's Squawk on the Street on July 14.
Crypto is an international asset and will transcend any one currency valuation, $BLK CEO Larry Fink tells @jimcramer, @carlquintanilla & @davidfaber pic.twitter.com/o1G3D6pfqF

— Squawk on the Street (@SquawkStreet) July 14, 2023
In Fink's view, cryptocurrencies have a "differentiating value versus other asset classes" in helping diversify portfolios.
"It's so international it's going to transcend any one currency," noted the executive.
As the world's largest asset manager, and given Fink's positioning among the globalist elite, one can't help wonder at why the sudden shift - is this is 'blow up the dollar, crash the world, force everyone to beg for global centralized currency bailout' narrative playing out?
"If you look at the value of our dollar, how it depreciated in the last two months and how much it appreciated over the last five years... an international crypto product can really transcend that," he went on.

"That's why we believe there's great opportunities and that's why we're seeing more and more interest. And the interest is broad-based [and] worldwide."
"We believe we have a responsibility to democratize investing. We've done a great job, and the role of ETFs in the world is transforming investing. And we're only at the beginning of that," Fink stated in the interview.
Great opportunities indeed, as shortly after Fink spoke, The SEC accepted BlackRock's application for a spot Bitcoin exchange-traded fund (ETF).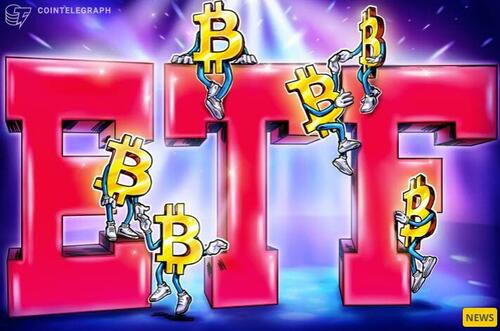 CoinTelegraph.com reports that the SEC's acknowledgment indicates the commencement of the official review process for BlackRock's ETF proposal.
While it is an initial step in a lengthy regulatory journey, it signals the SEC's readiness to explore the idea of a spot Bitcoin ETF and assess its potential market effects.
"We are working with our regulators because, as in any new market, if BlackRock's name is going to be on it, we're going to make sure that it's safe and sound and protected," Fink added.
On Friday, July 14, the regulator announced that it is also in the process of reviewing applications for various funds, including Wise Origin Bitcoin Trust, WisdomTree, VanEck and Invesco Galaxy.
As a reminder, the SEC has yet to approve a spot Bitcoin ETF in the United States; however, in Canada, the financial product is already available. Three significant funds: Purpose Bitcoin, 3iQ CoinShares and CI Galaxy Bitcoin, have been approved by regulators in the country.
Loading...