---
Despite IMF Rebuke, Zimbabwe Sells $14 Million Gold-Backed Digital Tokens In First Issue
Two weeks ago we described Zimbabwe's latest effort to stabilize the local currency from continued depreciation against the U.S. dollar - The Reserve Bank of Zimbabwe introduced a gold-backed digital currency to serve as legal tender in the country.
By way of background, Zimbabwe has been fighting against currency volatility and inflation for over a decade.
In 2009, the country adopted the U.S. dollar as its currency after an episode of hyperinflation.
In 2019, the Zimbabwean dollar was reintroduced in an effort to revive the country's struggling economy.
Last year, the government decided to use the U.S. dollar again in a bid to curb surging prices in the country.
And now, The central bank's latest plan will allow small amounts of Zimbabwean dollars to be exchanged for the digital gold token, enabling more Zimbabweans to hedge against currency volatility.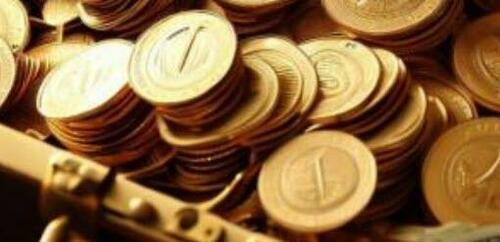 Of course, this greatly annoyed The IMF (who may lose their debt-driven control over the country should this plan be successful):
A careful assessment should be conducted to ensure the benefits from this measure outweigh the costs and potential risks including, for instance, macroeconomic and financial stability risks, legal and operational risks, governance risks, cost of forgone FX reserves...
The Washington-based lender urged authorities in the southern African nation to rather use conventional measures to address economic challenges (i.e. borrow from us and bend the knee 'economic hitman'-style).
Nevertheless, the central bank started selling digital tokens to investors on Monday for a minimum price of $10 for individuals and $5,000 for corporates and other entities, as part of efforts to reduce demand for US dollars that now supersede the local unit as the preferred currency for transactions. 
And now the results are in.
Zimbabwe used nearly 140 kilograms of gold reserves to back the first sale of its digital money.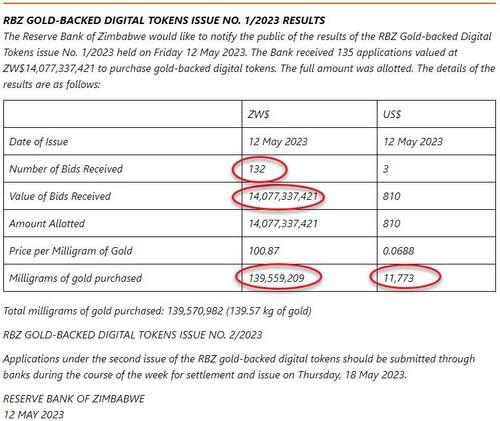 The central bank received 135 applications valued at 14 billion Zimbabwe dollar ($12 million) to purchase the gold-backed digital tokens, it said in an emailed statement on Friday. It plans a second auction on May 18.
It appears the market is testing out the process before committing to converting significant Zim$ reserves into gold tokens, But still, it was a respectable first week.
Finally, as we noted previously, crypto adoption has grown in many African countries as a result of economic challenges.
According to Chainalysis, the Middle East and North Africa is the fastest-growing region for crypto adoption thanks to cross-border remittances, with over $566 billion in crypto transactions between July 2021 and June 2022, up 48% from the previous year.
Loading...