---
Beijing Is Ceding The Economic Race As Growth Slows
By George Lei, Bloomberg Markets Live reporter and strategist
Forecasts for China's 2023 and 2024 economic growth have been slashed on Wall Street over the past few weeks. The world's second-largest economy now risks missing Beijing's own growth target for a second straight year and could expand at a sub-5% pace for three years in a row — something unheard of since the death of Mao Zedong in 1976.
Stalling growth will surely have longer-term geopolitical implications. Odds are stacked against President Xi, who pledged last year to make China a "medium-developed country" by 2035. That's also the time when China could dethrone the US to become the world's No. 1 economy, if the stars are aligned. Such a prospect, however, looks increasingly out of reach given the current trajectories.
China's strong growth and subsequent currency appreciation meant the country's output, measured in dollars, has grown much faster than the US for over two decades. The nation's GDP was around $1.2 trillion at the turn of the century, less than one-eighth of the US. Its share of US GDP climbed toward 70% in 2020 and topped 72% in 2021. That was comparable with Japan, whose dollar-denominated output reached almost 73% of US levels in 1995, before embarking on a downtrend ever since.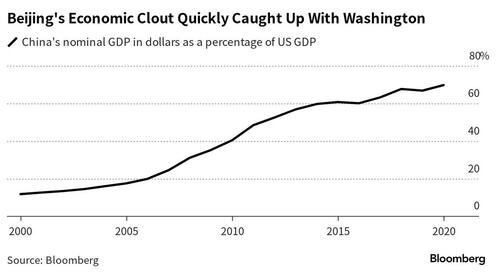 Last year was a watershed moment as China's relative economic might versus the US declined after the second quarter, when a two-month lockdown of Shanghai wreaked havoc on sentiment and dented growth momentum. The nation's GDP rose $1.3 trillion in 2022, compared with a $2.1 trillion gain in the US, according to data compiled by Bloomberg. In the first half of 2023, Chinese GDP in dollar terms shrank — as the yuan lost almost 5% versus the greenback — while the US economy powered on, "opening a bigger gap in the global economic race" as my colleague Gerard DiPippo wrote. Chinese output as a share of the US now stands near 68%, on course for a second straight year of decline.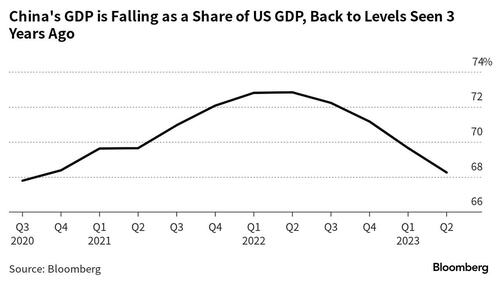 At the October party congress, President Xi set the goal for China to become a "medium-developed country" by 2035, which implies doubling the size of its economy and per-capita GDP from 2020 levels, and requires an average annual growth rate of around 4.7%. The latest Bloomberg survey of economists saw Chinese output expanding 5.1% this year, before moderating to 4.5% in 2024 and 2025. Given last year's 3% expansion, the four-year average between 2022 and 2025 will amount to less than 4.3%. That number is sure to fall if policymakers refrain from major stimulus and growth momentum keeps deteriorating.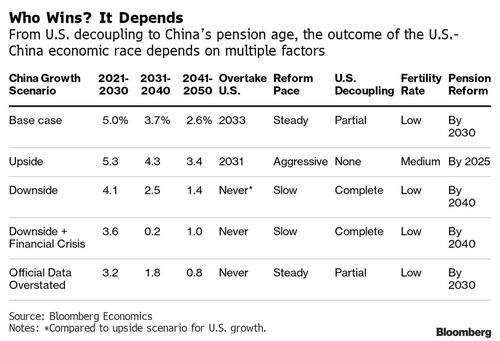 Two years ago, my colleagues Eric Zhu and Tom Orlik at Bloomberg Economics analyzed several scenarios and concluded that China will need 5%-plus growth as well as least a steady pace of reforms, and it also will need to avoid a full decoupling in order to economically dethrone the US in the next decade. Events since then have made their base case look optimistic, and the downside scenario more akin to reality. Beijing may choose to muddle through its present growth impasse and refrain from any "big bang" measures at the expense of never ascending to the pinnacle of the global economic competition.
Loading...