---
How A Yellow Bankruptcy Could Uproot Supply Chains In Real Time
By Craig Fuller, CEO at FreightWaves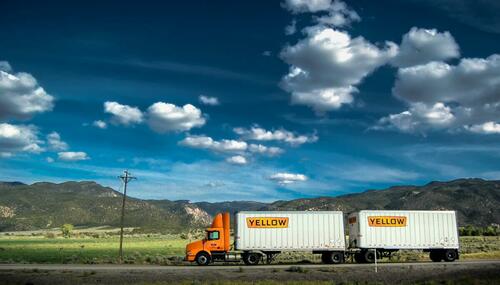 Yellow Corp. has failed to make its required pension contributions for June and is planning to withhold payments for July. The pension funds, pension accruals and health care coverage for workers will suspend on Sunday, according to a statement by the Teamsters. 
The Teamsters union has threatened to strike by Monday if this is not resolved and the pension contributions remain in default. The company owes $50 million, a large sum for a company in financial distress. Yellow currently has in excess of $100 million in cash reserves, according to an 8-K filed on July 7. 
If a strike comes to pass, this would likely be the end for the storied less-than-truckload carrier. 
While there is a lot of noise around the Yellow story, one thing is clear: Management is aware of the risks of not paying into the pension fund. They would have only missed a pension payment out of dire necessity, not convenience. 
After all, this is not an Elon Musk-style default — "I am not going to pay this because I don't want to" — but rather a decision that is borne out of a lack of sufficient funds to cover the payments. 
Yellow's management likely knew that not paying the funds would force the Teamsters' hands. Perhaps they were hoping for a last-minute government bailout and decided that not paying the pension payment would allow for a few more weeks of liquidity until that bailout came.
Regardless of the reason for the company's decision not to pay, it knew that defaulting would breach its contract with the Teamsters and that it would face retaliation from a battle-ready leader in Sean O'Brien. 
O'Brien's public statements and Twitter feed would suggest he is ready for a Yellow bankruptcy. On June 24, he posted a photo on Twitter — he goes by @TeamsterSOB — of a tombstone with Yellow's name and the dates 1924-2023. 
If "Do Nothing Darren" continues he will single handily destroy a once honorable company … RESIGN NOW… Our members are done making bad investments….. pic.twitter.com/8db5HACLAy

— Sean M. O'Brien (@TeamsterSOB) June 24, 2023
O'Brien, a regular Twitter poster, last tweeted about Yellow on June 27. Since then, his feed has been dedicated to UPS. 
If O'Brien has written off the 22,000 Teamster jobs at Yellow, you can bet that there is little hope for the company's future. 
What Yellow customers can do
Yellow's customers have options, however. 
According to channel checks conducted by FreightWaves, many of Yellow's shipping customers have been preparing for the prospect of a shutdown, but not all have not acted upon it as of yet. This will likely change this week. 
Supply chain decision-makers would be wise to consider an alternative to Yellow as soon as possible. No shipping customer wants to be caught in a Yellow shutdown; there is a big chance that shippers won't see their freight for months — if ever. 
Once a strike takes place, Yellow's revenue would drop to almost zero, as almost all of its revenue is dependent upon union labor. And it is unlikely that it could recover, short of an improbable government bailout. The cash burn would be insurmountable and the company would be forced into bankruptcy within days or weeks. 
Freight tendered this week that is still in Yellow's network would likely be abandoned at terminal locations across the country. These terminals would be unsecure and attractive locations for criminals to target, especially after a few weeks. 
Yellow's terminal real estate is pledged to the bondholders. They would be responsible for liquidating the real estate portfolio. It could take months. The agencies that are responsible for liquidation are not going to concern themselves with freight that is left behind in Yellow's network. 
Linehauls won't be moving freight between terminals. There is a chance that outside contractors that are part of Yellow's linehaul network would hold freight hostage, demanding some form of payment for services rendered.  
For shipping customers, customer service jobs would likely be eliminated almost immediately and there would be no chance of getting in touch with anyone to help sort out where the freight is, much less recover it. And worst of all, there will be no one to file a claim at the carrier. Even if by some miracle you were able to do so, you would be an unsecured creditor with an infinitely small chance of recovering anything in a liquidation. 
While no one likes to see a storied company shutter or 30,000 people lose their jobs, a Yellow shutdown would happen at a time when the trucking industry could absorb the volume. The trucking economy is very weak right now. Capacity is abundant and Yellow's competitors have been preparing for its failure for the past few months. 
Even if LTL networks get stretched (Yellow represents an estimated 10% of the total LTL volume), shippers will find plenty of linehaul capacity to purchase from the truckload industry. This could provide a welcome catalyst for Yellow's competitors and the truckload sector. 
Market volatility is likely to be a factor. Yellow largely relied upon its own Teamsters power to run linehaul services between terminals. The loss of this capacity could play havoc on the broader freight network for a few months as routing guides get reset. 
State of Freight: What a Yellow bankruptcy means for the freight market
On Thursday, FreightWaves will be hosting a special State of Freight webinar to discuss what a Yellow shutdown likely means for the freight market and how shippers and carriers should prepare. It's at 2 p.m. EDT and free to attend. Sign up here.
Loading...